CHARLOTTE - Defensive end Greg Hardy feels much better than he did before and during Sunday's game at the Arizona Cardinals, but he's still ill.
"We've had enough of losing. I don't like losing," Hardy said Wednesday. "This is a moment of calm before the storm. Everybody is taking it all in and getting down to their feelings, and nobody is really satisfied and happy with what's going on. We've got to fix it. It starts today."
The never bashful Hardy offered up his recipe for relief in advance of Sunday's game at the Minnesota Vikings.
"Hit somebody in the face, come out with aggression and make somebody else pay for it," he said. "We want to channel this anger and this adversity that we're going through into a better game this week."
Apparently, Hardy's feeling is contagious. He's not the only Panther looking for a remedy at the expense of an opponent.
"You can either put it upon your teammates or put it upon the other team," left tackle Jordan Gross said. "I think we are all pretty good at moving forward and focusing."
Hardy said at the height of his illness, he had a fever of 102.7. Sounds like he'll be ready to bring the heat come Sunday.
"I'm still recovering a little bit, but I'm well enough to function. That's all I really need. I feel way better, getting a little bit of my personality back."
SAFETY IN NUMBERS: As has been since Week 1, one of Carolina's safeties missed practice Wednesday, but it was a different one.
While Quintin Mikell practiced for the first time since suffering an ankle injury in Week 2, Robert Lester missed practice with a hamstring injury suffered against the Cardinals. There's a strong hope that both will be ready for action Sunday.
Head coach Ron Rivera said that Lester, who has two interceptions in two games played, would again start alongside Mike Mitchell if healthy.
"Robert's got a little bit of a rhythm going right now," Rivera said. "He and Mike have developed a good rapport, although it's also easy to see that Quintin has the ability to work with anybody. He's a veteran.
"Quintin moved around very well. I was very pleased to see him back on the football field."
Lester doesn't seem overly concerned about his playing status.
"I just aggravated the hamstring. Nothing serious," he said. "I definitely plan on being out there on Sunday."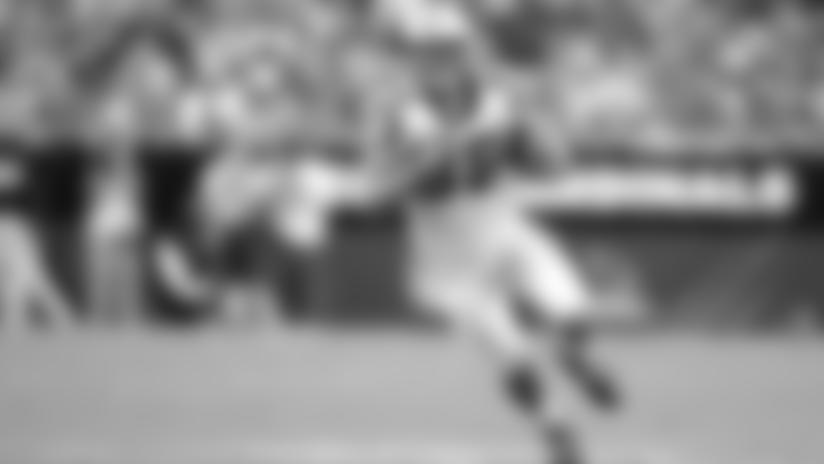 OLSEN OK: Tight end Greg Olsen has played in 98 consecutive regular season games since missing the first two of his career with a knee injury.
He isn't about to let a foot injury that sidelined him for Wednesday's practice stop his streak.
"I take a lot of pride in playing a lot of games without missing," said Olsen, who labeled as "precautionary" his absence Wednesday. "A lot of it is luck, but a lot of it is preparation. I expect to keep it going Sunday.
"I don't expect to miss any time. I've been pretty fortunate over the years injury-wise. Things like this, you just kind of work through and deal with. I've played with worse, so I'm not too worried about it."
STILL HAMSTRUNG: Defensive tackle Dwan Edwards is trying to avoid missing a third consecutive game with a hamstring injury, but he missed practice again Wednesday.
"Hopefully, this will be the week where I can go," Edwards said. "It feels good some days and other days you kind of have setbacks and some pains. Overall, it's getting better.
"As a defensive lineman, at the end of the day, I have to see if I can take on a 600-pound double team. When I'm healthy enough for that I should be ready to go."