CHARLOTTE – The Panthers' top two draft choices suffered minor injuries during the second practice session Friday, but both were on the field to wrap up rookie minicamp on Saturday.
Linebacker Shaq Thompson, who tweaked his hamstring, participated in the installation periods but was held out of live drills.
"It was tough," Thompson said. "But I got in mental reps and made all the calls."
Thompson will miss a large portion of the Panthers' offseason training activities while finishing classes at the University of Washington. But Carolina's first-round pick will communicate with coaches and teammates to continue learning the playbook in the time being.
"I would have loved to have seen Shaq a little more, but I liked what I saw on tape yesterday," Rivera said. "I like the quickness and the change of direction. He showed some really good movement skills."
Wide receiver Devin Funchess left the Friday afternoon practice early with cramps, but he was full-speed on Saturday. His route running was superb, allowing him to create separation consistently.
"Real pleased with what we saw from Devin," Rivera said of the second-round selection. "He ran some good routes and showed some good versatility playing all three wide receiver positions."
THERE'S NO PLACE LIKE HOME: Several players traveled across the country to take part as invited tryouts at the Panthers' rookie minicamp.
Offensive tackle Daniel Blitch needed to only travel across the city, but he hopes he has a long football journey still ahead of him.
"To be able to be on an NFL team in the city where I played in college would be a huge opportunity and huge blessing," said Blitch, who played for the University of North Carolina at Charlotte's fledgling program just up the road. "To have people on social media saying 'Go Niners!' and 'Keep Pounding!,' too, is awesome."
Blitch and with safety Desmond Cooper (Jacksonville Jaguars) are the first players from the school – which has fielded a football team for two seasons now - to be invited to an NFL camp. Blitch was one of several area players who participated in Panthers camp, a list that included two players from Johnson C. Smith – wide receiver Avius Capers and defensive end Jovontay Williams – and South Carolina State offensive tackle Devin Flowers, a Charlotte native.
"These guys were invited earlier when we had a local workout, and they got invited back because they did a nice job there," Rivera said. "They've done a nice job with the opportunity to shine and show what they can do."
The local products along with the other tryouts players will now wait to see if they're asked to help fill the four vacant spots on Carolina's 90-man roster.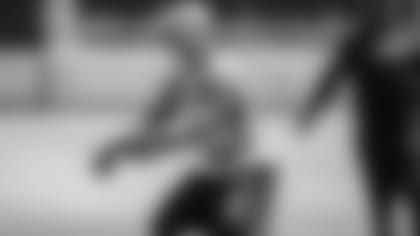 UNDRAFTED BUT UNDAUNTED: While many observers were most excited about seeing the Panthers' five draft picks in action this weekend, coaches got an equally valuable opportuity to see the team's 10 undrafted college free agents up-close for the first time.
Journeyman running back Brandon Wegher was among those making a good first impression.
"I think Brandon Wegher is going to be a nice diamond in the rough," Rivera said. "He's got some potential and ability. He has a nice skill set.
"I think he and (fifth-round draft pick Cameron) Artis-Payne are two young guys that will give us a good showing at running back going through training camp."
Wegher broke the NAIA rushing record with 2,610 yards at Morningside College in his native Sioux City, Iowa, last season. He played there for two years after being out of football for three seasons following a standout freshman season at Iowa, capped with 113 rushing yards in an Orange Bowl victory.
"After being a freshman in the Big Ten, I had to go backwards a little bit, but the NFL finds you wherever you are," Wegher said. "If you have talent and you belong in this league, they'll find you."
---
Staff writer Max Henson and senior writer Bryan Strickland contributed to this report.