CHARLOTTE – The Panthers released their first injury report of the week Thursday, and it required less ink than any report has in quite some time.
"Very nice to see that," head coach Ron Rivera said. "We've had some pretty long ones the last few weeks, so this is pretty promising."
The first injury report in advance of Carolina's game at Philadelphia on Monday contained just five names. Each of the previous five weeks had at least 10 names.
"I was only gone for one week, but it felt like forever," said safety Thomas DeCoud, who missed last week's game with a hamstring injury. "I feel awesome. I feel like a kid in a candy store."
The Panthers have had fewer names on the injury report just once all season – back in Week 1 when quarterback Cam Newton was the only name listed.
Thursday's list featured two rookies with ankle injuries who didn't practice. Cornerback Bene Benwikere hasn't practiced since being injured in a Week 5 victory over the Chicago Bears. Guard Trai Turner practiced Wednesday for the first time since suffering his injury in Week 7 at Green Bay but couldn't complete a second straight practice.
"When a guy gets an inordinate amount of work one day, you've got to see how he reacts the next day," Rivera said. "He didn't react as well as we had hoped, so that was why he was on the side working."
TOLBERT GETTING CLOSER: Because fullback Mike Tolbert is on injured reserve/designated to return, his name didn't appear on the injury report.
Once Tolbert is eligible to return to the active roster in Week 13, he might not be on the injury report, either.
"He practiced today, ran around, did some nice things," Rivera said of Tolbert, who suffered a knee injury in Week 3. "He looked like himself – if anything, a little bit more round.
"He's got to get back in shape. That's what he's going to do the next few weeks – work on his conditioning and work on again being that football player that we know he is."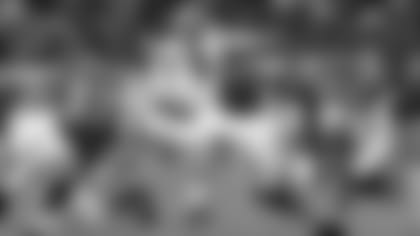 FOOTNOTE: The Panthers made their last Monday Night Football road appearance two years ago at Philadelphia.
That was the first game for kicker Graham Gano in a Panthers uniform.
"That was an opportunity after being out of the NFL for 10 weeks at that point," Gano said. "I was real excited to get the job, and I remember we won the game."
Gano, who had been waived by Washington prior to the start of the 2012 season after spending his first three NFL seasons with the Redskins, helped Carolina beat the Eagles 30-22 in his Panthers debut on Nov. 26, 2012. It wasn't without some unprecedented drama for Gano, who missed an extra point with 4:46 left that kept it a one-score game.
"That's the only PAT I've missed in my whole life. I've had some blocked, but that's the only one I've ever missed," Gano said. "It was one of those things you just have to move on from. That was our first week kicking together. After that, we got smoother and smoother. We've gelled together pretty good."
Gano, in fact, has made all 75 of his PATs since that miss. He's also made 49-of-56 field goals – including 17-of-19 this year - and nearly 75 percent of his kickoffs have resulted in touchbacks since he came to Carolina.
ROSTER REALIGNMENT: De'Andre Presley was signed to the practice squad Thursday to conclude a series of moves that allowed him to remain with the team.
The Panthers had to decide this week whether the wide receiver/cornerback from Appalachian State would come off the physically unable to perform (PUP) list or remain there for the rest of the year. Staying on the PUP list, where he had been since the start of the season with a shin injury, would have meant he could no longer participate in practice.
NFL rules don't allow a player to go straight from the PUP list to the practice squad, so the Panthers had to first add Presley to the active roster. They waived running back Chris Ogbonnaya to make room Monday for Presley but then waived Presley on Tuesday and re-signed Ogbonnaya on Wednesday. To make room for Presley on the practice squad, Carolina terminated wide receiver Willie Snead from the unit.