CHARLOTTE – Defensive end Charles Johnson is feeling good after a weekend of treatment for a groin strain suffered in the Panthers' 31-13 win over the Tampa Bay Buccaneers on Thursday.
Johnson told reporters he "100 percent" expects to play against the Atlanta Falcons in Week 9.
"I feel good. I plan on playing on Sunday," Johnson said. "It was just sore. It's getting better. Day by day it is getting better."
Johnson was relieved to find out that the groin injury, which head coach Ron Rivera initially feared could be significant, was not too serious after an MRI revealed no tear.
"I had never pulled my groin before," Johnson said. "It was a relief that nothing was really wrong with it, it was just a strain. I'll be ready to play on Sunday."
Johnson, who is from Georgia, flashed a big smile when asked about how excited he gets to play the Falcons, and he fully expects to be on the field when the Panthers host their division rivals from Atlanta.
"It's big -- not just for me, but for the whole group," Johnson said. "We know how big this division game is. We are going to come out and try to play our A-plus game. I'm going to be trying to play the best game I've ever played. That's my mentality.
"They (Falcons) bring it out of me a little bit, but I try to come out and play every game like that."
GODFREY WATCHES: Safety Charles Godfrey, who was placed on injured reserve after tearing his Achilles tendon in Week 2 at Buffalo, had surgery almost two months ago and says his rehab process is going well.
While he no doubt wishes he could take the field with his teammates, Godfrey is enjoying watching them have success.
"Me wanting to play is me wanting to play, win or lose," Godfrey said. "It makes it a lot better for me that the team is out there winning and doing what they are supposed to do. To see these guys doing well - that makes me feel at ease. I'm happy for us."
Before the season, Godfrey felt like the Panthers were about to have a special season. Thanks to a three-game winning streak, the Panthers are starting to make Godfrey's prediction a reality.
"At the beginning of the year, I talked to the media and I told them I had a feeling we would have a great year," Godfrey said. "With me being out, it doesn't change anything. It's all about the team and how we came together in the locker room. It's showing. We are making strides."
As he continues his rehab, Godfrey will continue to be a resource for his teammates who have performed admirably without him in the secondary.
"If I can help somebody in the secondary, if I see something, I help out," Godfrey said. "I'm still watching film and stuff like that. I'm watching and seeing what I can help the team with. But I'm not going to step out of my boundaries because I know I'm not out there. You kind of have to gauge that. I'm just trying to help any way I can."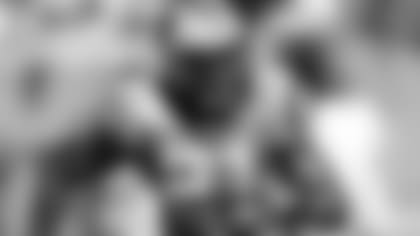 FINE BY ME: Safety Mike Mitchell's physical style of football is rubbing off on his teammates, even if it seems to be rubbing the NFL the wrong way.
Mitchell said he's been fined by the NFL five times already this season, but he's been flagged just once during the regular season.
"If you're going to fine me for something that's not getting flagged, then as long as it's not hurting our team, I'm fine," Mitchell said.
Mitchell, who was penalized for unnecessary roughness in consecutive preseason games, said he's curbed his aggressiveness against ballcarriers that are beginning to be brought to the ground by one of his teammates. But he hasn't changed his hard-nosed mentality, much to the delight of his head coach.
"Mike plays very hard, physical football. He's got a great style, a great brand," Rivera said. "It's spreading amongst our players in terms of being physical football players. I must certainly do appreciate what he's doing for us as far as our defense is concerned."
Said Mitchell: "I'm just trying to play great football for my team. If they feed off of it, that's great. I would like to inspire guys with the way I play, and that's a heck of a compliment. But to be honest with you, what you see is what you get. I'm playing as hard as I can for my coaches and my teammates and for my family."
---
Staff writer Max Henson and senior writer Bryan Strickland contributed to this report.