CHARLOTTE – Beyond the gaudy statistics and rankings, head coach Ron Rivera is most proud of the way the Panthers defense has matured.
And it's been one of the primary reasons for success.
"A lot of it is just maturing as a unit together," Rivera said. "They start taking ownership."
Defensive end Charles Johnson and the extra reps he seeks out on his off day, serve as a prime example of the maturation that's taking place.
"You watch Charles Johnson and the serious nature with which he's approaching things," Rivera said. "The last few Tuesdays when I've been out on the practice field, he's showed up. He showed up with some of his teammates, and they are going through pass rush stuff on their own. It's been impressive."
Said Johnson: "When you put the extra work in it shows up on Sunday."
Rivera added that he's noticed defensive end Greg Hardy leading extra film study sessions with some of the defensive lineman.
And the standard being set by Johnson and Hardy can have a trickledown effect on the younger players.
"Now peer pressure starts coming in, and they start policing themselves," Rivera said. "That bond is being developed. I think it's important for this group."
STEWART'S STATUS: Running back Jonathan Stewart (ankle) did not participate in Wednesday's practice.
Although Rivera said he's liked what he's seen lately from Stewart, he admitted it's unlikely the running back will make his 2013 debut Sunday against the Rams.
"We'll see how he is and how he reacts to everything today and tomorrow morning," Rivera said. "There is a lot for him to make sure he is on par with what we're doing. In all likelihood, yes, it's not very likely."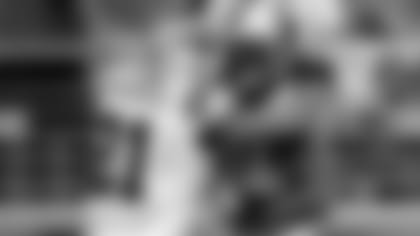 SAFETY SITUATION: Rookie safety Robert Lester (hamstring) was a full participant at practice after missing last week's game at Minnesota. Lester, who recorded two interceptions in his first two games, said he expects to play this week.
That leaves the coaching staff with a decision to make as far as who starts opposite safety Mike Mitchell.
"We're rotating (Lester) and Quintin Mikell," Rivera said. "It's kind of nice now; we've got a little more depth, which is good. It's tough, because both guys have played really well for us."
Mikell -- who was a St. Louis Ram from 2011-12 -- started in Week 1, 2 and 6. Lester started in Week 3 and 5. Both are determined to earn another start on Sunday.
"We've joked with each other around the locker room that you don't want to get hurt and miss any reps, because the next guy is just as good," Lester said. "That's great that our depth is that great."
WELCOME BACK WILLIAMS: The Panthers signed linebacker Jason Williams, who was released by team in the final roster cutdown, and placed left guard Amini Silatolu, who tore the anterior cruciate ligament in his right knee in Week 5, on injured reserve.
This is Williams' third stint with the Panthers and he'll be utilized on special teams, where he led the team with 15 tackles in 2011.
"Jason is a very good special teams player for us," Rivera said. "It's going to help us out. He's a four-phase guy who will take some pressure off of Chase Blackburn and Mike Tolbert. He'll come in and help cut some reps off those guys."