CHARLOTTE – As members of the 2017 Panthers milled around the locker room for the final time, one veteran was a man on a mission.
Running back Jonathan Stewart, as he does after select seasons, circulated around the locker room seeking signatures on a commemorative football.
"I do this for the good seasons," Stewart said.
The Panthers as a team and Stewart as an individual enjoyed a good season, and now he wants at least one more.
"I'm not done yet; I'm still ticking," Stewart said the day after an 11-5 season ended with a 31-26 playoff loss to the Saints. "Especially after what happened last night, you definitely want to get back out there as soon as possible.
"This is my 10th year here, and there's a lot of speculation. You've just got to control what you have and just do your job."
Stewart is among a group of veterans under contract for 2018 not assured of anything in the business world of the NFL. Defensive end Charles Johnson, one year Stewart's senior, just finished a difficult season in which he missed four games because of a suspension and was a healthy scratch for the playoffs.
"I'm hoping to keep playing," Johnson said. "I want to keep playing."
Most players that ended this year on the 53-man roster will return next season, but many will not. So regardless of how things pan out for Stewart, Monday was a memorable day.
"It's bittersweet because you definitely don't want to clean out your locker without it being the Super Bowl," Stewart said. "But we gave ourselves a chance to get to the Super Bowl. Whenever you get to the playoffs, it's huge.
"The good thing is having one last hurrah with the same guys in the locker room – laugh, joke, swap jerseys, get autographs. It's a pretty cool time, a special time, even though it can be depressing."
Olsen ready for 2018: While there's no real reason to even ask whether some other veterans entering the final year of their contract (think ) will be asked to return, the 2017 season could have given tight end Greg Olsen some food for thought.
But after a run of 10 seasons without missing a game came crashing down, Olsen is as hungry as ever.
"I still feel like I can play at a high level for a good while longer," Olsen said. "I feel good. It kind of sucks that the year ended just when I was finding my groove. I have no plans to stop playing in the immediate future, as long as they still want me."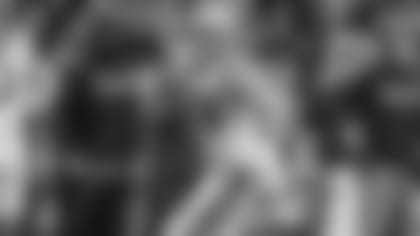 Olsen saved his best game in an injury-riddled season for the biggest game, catching eight passes for 107 yards and a touchdown against the Saints. He totaled just 17 catches in the regular season after a broken foot limited him to seven games played and about six games of field time.
"It's helped me appreciate 10-plus years and just how fragile that is," Olsen said. "At the time it seemed easy, but you realize it's not most people's experience in this league. I feel lucky."
What about the GM? Olsen advocated for one person whose contract doesn't include next season – interim general manager Marty Hurney.
"Stability in the football part of the building would go a long way. It has really shone to work well," Olsen said. "I think it would be great for Marty to stay onboard to bring stability during this transition to new ownership."
Hurney was hired on an interim basis shortly before training camp to the role he held from 2002-12.
"I just get up and do my job. I don't think about that stuff," Hurney said. "I love what I'm doing, but I don't even think in those terms. I just come to work every day with a smile on my face. That's a change from the last time.
"I enjoy it. I'm having fun. I do think I do have a perspective the second time around."
No new news on Newton: Hurney was asked for his perspective on reports that the NFL will look into whether the league's concussion protocol was properly followed when quarterback Cam Newton left midway through the fourth quarter with an eye injury.
"We did everything the right way," Hurney said. "He took a hit, but when he walked off he told the trainers he got poked in the eye, and they did take him in the tent and check him for a concussion, which he did not have."
Hurney said after Newton informed Rivera that it was an eye injury, Newton was instructed to go to the ground before reaching the sideline to give backup Derek Anderson the chance to warm up that is afforded by an official timeout.
"Last night I explained to you guys based on what the young man said to me," Rivera said. "That's what I believe happened. From that point on I don't think anything else needs to be said about it."
Practice squad members signed: The 11 members of the Panthers' practice squad have all signed "future" contracts.
Future contracts allow teams to sign players for the upcoming season even though the new season has not begun yet. It's called a "future" contract because even though the player has signed, he does not officially become a member of the roster until the beginning of the new league year March 14.
The Panthers previously signed cornerback Lorenzo Doss to a future contract.
View photos of the Panthers clearing out their lockers before heading into the offseason.