CHARLOTTE – Literally on his way out the door early Monday afternoon for some well-earned time off, rookie linebacker Luke Kuechly got in just a little bit more chalk talk with Panthers defensive coordinator Sean McDermott.
Kuechly's unwavering attention to the little things is adding up to big things.
With 16 tackles in Sunday's 30-20 victory over the Atlanta Falcons, Kuechly now leads the league in the NFL's unofficial tackle totals with 130.
"If there's a better defensive rookie in the league, I haven't seen it," McDermott said. "Week in and week out, he's number one or two on the tackle list for us, and he's lining the defense up.
"The things he does for a rookie is very impressive. He's got a bright, bright future. This organization is fortunate to have a player and a person like Luke Kuechly."
Kuechly entered Sunday's game with 147 tackles based on the coaching staff's weekly film review. This week's film review could move him within single digits of breaking James Anderson's team record of 174 established last season.
"It's one of those things, the more reps you get, the more comfortable you get," Kuechly said Sunday. "I think it's still a learning process, and there are still things I am going to look for tomorrow and ask why did I do that, but I have a good corps of guys around me that make it easier.
"The linebacker room is very helpful. Guys are around to lend advice, and I think I have been put in a fortunate situation."
---
ONE PLAY AT TIME: Last year's NFL Offensive Rookie of the Year, quarterback Cam Newton, continued his recent strong play against the Falcons, becoming the first player in NFL history to throw for more than 250 yards, run for more than 100 and account for a passing and rushing touchdown in the same game.
Newton got there one play at a time.
"We have to keep 'playing the one,' " Newton said. "That means playing the play that you are on, not focusing on the past.
"There are some plays that I know I wish I could have back. The one that stands out right now is the one throw to Louis Murphy when he was wide open, but you have to continuously be playing and progressing in the game. You never know which play can be the difference maker."
Panthers head coach Ron Rivera said that approach is a big part of the reason Newton has been a difference maker of late.
"He's playing with the swagger he had, and I think he's also learned to handle the disappointment we've had this year," Rivera said. "That's really helped him."
---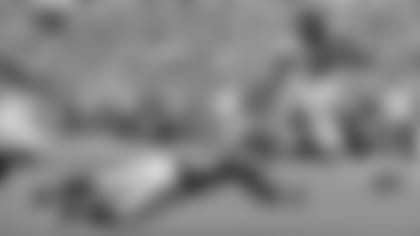 INJURY UPDATE: Kuechly, defensive end Charles Johnson and safety Haruki Nakamura are the only Panthers defensive players to start all 13 games, but Nakamura's streak could be over.
Nakamura left Sunday's game with a groin injury, and he feared the worst after the game.
"I'm afraid I might have torn something," Nakamura said. "I went to overextend, and it just popped. I lost all power in my left leg. It wasn't the greatest feeling in the world."
Rivera didn't yet have an update on Nakamura at the time of his press conference Monday. Rivera said that center Geoff Hangartner suffered a minor knee sprain (posterior cruciate ligament), but Hangartner returned to action after missing a couple of series.