PHILADELPHIA – Defensive tackle Star Lotulelei suffered a leg injury and had to be carted off the field late in the third quarter of Monday's 45-21 loss to the Philadelphia Eagles, but the injury does not appear to be as serious as initially feared.
Lotulelei rolled his right ankle, but head coach Ron Rivera said no structural damage was done. Lotulelei was wearing a protective boot after the game.
"Everything came up negative," Rivera said. "We'll see how he handles the rehab process, but as of right now it wasn't that serious."
Lotulelei – Carolina's first-round pick from Utah in 2013 – has started all 26 games of his career.
EFFORT NOT THE PROBLEM: Rivera made it clear he does not believe a lack of effort is a reason for Carolina's struggles.
"Believe me, if I see an effort problem I would have taken (that person) off the football field," Rivera said. "I'm not going to have that."
Tight end Greg Olsen said effort has never been an issue during Rivera's tenure, and he doesn't expect that to change with six games left.
"We've had some rough stretches and some ups and downs, but the one thing that has never strayed – there is no lying down," said Olsen, who recorded a team-high six catches for 119 yards against the Eagles. "We have every expectation to win, every expectation to put on a better show for our fans. That's never going to change. That's the culture that we've had. As far as continuing to work, continuing to play hard, that's not even a question. That's a given.
"We need to play better football. I don't think effort or any of that is our issue."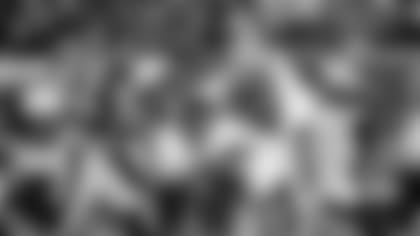 BENJAMIN ADDS TO TOTALS: With two touchdown grabs in the fourth quarter, rookie wide receiver Kelvin Benjamin became Carolina's team leader in touchdown receptions with seven.
Benjamin fought through defenders for a 21-yard touchdown and later hauled in a 40-yard touchdown.
Those scores came after the outcome had long been decided, and Benjamin will strive for more production earlier in games. Benjamin's first target in the first quarter resulted in an interception, and his next two first-half targets resulted in incompletions. He finished with three catches for 70 yards and the two aforementioned touchdowns.