CHARLOTTE – Both of the Panthers' starting offensive tackles are dealing with injuries, but head coach Ron Rivera expects Byron Bell (elbow) and Nate Chandler (thigh) to play Sunday against the Seahawks.
Chandler missed Thursday's practice, and Bell was limited for the second consecutive day.
Running backs DeAngelo Williams (ankle) and Fozzy Whittaker (thigh) have not practiced this week and are not expected to play, but both are getting some work on the side.
"DeAngelo worked again on the side with the trainers and did a really nice job," Rivera said. "Pretty excited about seeing him run around. We'll find the right opportunity to get him out there and, hopefully, it's coming soon."
FINE WITH IT: Some players barely bat an eye when the NFL levies a fine against them.
Luke Kuechly isn't one of those players.
While the linebacker had no interest in rehashing the aftermath of his ejection from last week's game at Green Bay, he had a lot of interest in whether or not he would be fined.
"I was hoping for one thing and one thing only, and that was not to get fined," said Kuechly, who learned earlier in the week that he would not be fined. "That was the big news and what I was hoping for. I didn't get fined, and that made me happy. It put a big smile on my face."
Rivera said he received a memo from the league office that Kuechly shouldn't have been ejected and that he wouldn't be fined for his actions against the Packers. Kuechly was ejected in the third quarter when an official grabbed him from behind and Kuechly made inadvertent contact while swinging his arm free, unaware that an official rather than a Packers player had grabbed him.
BENJAMIN'S GROWTH: This time last week, the Panthers weren't sure if wide receiver Kelvin Benjamin would be able to play after suffering a concussion in Week 6 at Cincinnati. Benjamin did play at Green Bay and didn't appear to miss a beat, catching a touchdown for the fifth time in his first seven career games.
Count fellow receiver Jason Avant, a steady performer throughout his eight-plus NFL seasons who doesn't have a five-touchdown season on his resume, among those impressed by the 6-5 rookie.
"Cam (Newton) has great confidence in him," Avant said. "It's kind of hard not to when you look over there and see how big he is; and he plays big. He uses his size to his advantage."
Avant, however, stressed that Benjamin is much more than a physical specimen.
"He's doing a great job of knowing what to do, and that's saying a lot for a rookie," said Avant, who has at least one catch in each game this season. "He's getting more consistent as far as knowing the plays and being responsible when it comes to route technique and things like that, and that's what you want."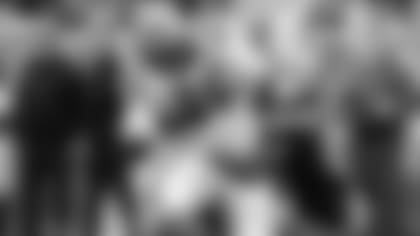 WILLIAMS THRILLED TO CONTRIBUTE: Second-year tight end Brandon Williams has had to be patient, but the ball is finally coming his way.
Williams has played in five games this season, and he recorded his first career reception in Week 6 when he hauled in a 16-yarder against the Cincinnati Bengals. Last week against the Packers, he was targeted three times and recorded two catches for 22 yards
"It feels great. As a tight end, you always want to get the ball," said Williams, who played in nine games as a rookie last season. "Just being able to contribute is fulfilling. Being able to help the team in any kind of way when I get the opportunity is amazing."
The production has been modest, but Williams believes he's steadily improving.
"I definitely feel like I've gotten better, more so mentally than anything," Williams said. "I feel a lot more confident about being out there, and I've been working hard."
---
Senior writer Bryan Strickland and staff writer Max Henson contributed to this report.