CHARLOTTE – A Panthers tradition began during the 2012 season with the team having someone bang the "Keep Pounding" drum on the field before the start of every home game.
Prior to Sunday's NFC Divisional Playoff against the San Francisco 49ers, the Panthers will honor the family of the late Sam Mills. The former Carolina linebacker and linebackers coach inspired the organization's "Keep Pounding" mantra during a speech before the team's 2003 NFC Wild Card game against the Cowboys.
Marcus and Sierra – two of Mills' four children – will bang the drum. Mills' oldest son, Sam III - who is the Panthers' assistant defensive line coach - will be busy preparing for the game in the coaches' box.
"I think it's a great tribute to Sam Mills," head coach Ron Rivera said. "This team epitomizes (Keep Pounding)."
Several Panthers talked about what "Keep Pounding" means to them.
"Each and every play it is the mentality," quarterback Cam Newton said. "You have to continuously keep coming. Give your teammates all you've got."
Said wide receiver Brandon LaFell: "It means never give up, no matter how hard it gets out there on the football field. We have to have that quote in our minds. We are going to need every inch. We are going to need a lot of intensity on the field to win the game."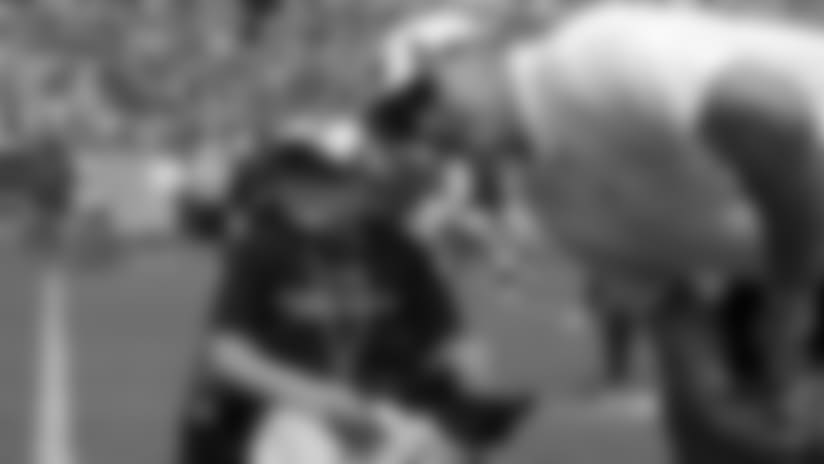 The Panthers will also get some pregame motivation from associate head coach Jack Bolton, who will attend practice Friday. The 9-year-old Bolton has spinal muscular atrophy, a disease that severely impacts his mobility and respiratory health. He helped Rivera coach during the Panthers' annual Fan Fest scrimmage in August.
BETTER BECAUSE OF BYE: The Panthers will be the next-to-last among the 12 playoff teams to take the field for their postseason opener, a two-week wait that could create anxiety.
They're hoping it instead creates an edge.
"You're so used to building up for a game, but to have the bye week and not play is actually a good thing," safety Mike Mitchell said. "My body feels really good. It's been awhile since we had a bye week, so to get those days off and not really beat myself, I'm ready to play."
Carolina will host a 49ers team that had anything but a bye last week, surviving brutally cold Green Bay in an NFC Wild Card. But the 49ers' regular season bye came in Week 9 – the week leading up their regular season game against the Panthers.
The Panthers' bye occurred way back in Week 4, the first week of byes. The remaining playoff teams all had their regular season bye in Week 7 or later.
"We went 13 straight weeks before we got a break, with the intensity of it all. The bye came at the right time for us," head coach Ron Rivera said. "Getting this bye and getting an opportunity to get off our feet and rest a little bit, relax, clear our minds and then focus again – I think it's very beneficial to us from what I'm seeing now. Watching the way we practiced, I thought there was great energy again today."
Rivera said it's understandable if the Panthers are anxious to play, but it should help that the week leading up to the game has virtually mirrored a regular season week.
The players believe the benefits will outweigh any concerns.
"It feels like it's been a long time since we've played. The body feels good," fullback Mike Tolbert said. "I wouldn't say I'm anxious. Maybe Saturday night might be a sleepless night, but right now I'm good.
"I'm always excited to hit. We can hit right now if you want to. It doesn't matter to me. I'm ready to go."
DA BEARS: Rivera knows what it's like to be the last team standing in the playoffs, having won a Super Bowl ring as a linebacker on the Chicago Bears' 1985 team.
He sees some similarities in that team and this Panthers team. Both were built on defense and a strong running game, but the off-the-field comparison might be the more important one.
"Guys will ask me questions about it, about what it was like and how things were," Rivera said. "I've talked to them about how close we were as a team, about how (head coach Mike) Ditka wanted us to take ownership and lead ourselves. I've talked about how close a team that was in terms of guys coming together.
Rivera also hopes to one day experience some of the things with this team that he still experiences with his Bears teammates.
"I've also talked about some of the reunion things we've done," Rivera said, "about what it's like to go back later on and talk about what we're doing now and tell some lies about what we did."
GANO WAITING: Kicker Graham Gano had made all 12 of his field goal attempts leading up to the Panthers' game at San Francisco in Week 10, but the streak ended when he missed a 48-yarder late in the third quarter that would have given Carolina the lead.
But two possessions later, Gano got a second chance and took advantage, nailing a 53-yarder that proved the difference in a 10-9 victory.
"I was fully confident," Gano said. "I had missed one earlier in the game, so I just wanted another opportunity.
"That was a defensive battle with not a lot of points being scored, so I knew that could end up being a big kick."
Many observers are forecasting a similar game this time around. While Gano said he'd rather be kicking extra points than field goals, he would welcome another opportunity in the rematch.
"Every week I look at it like it could come down to a special teams play," said Gano, who converted 24-of-27 field goals in the regular season and didn't miss at home all season. "We have really good special teams, so I'm just looking forward to Sunday's game."
KICKING IT: Nicholas Williams of North Augusta, S.C., will represent the Panthers in the 52nd annual NFL Punt, Pass & Kick National Finals in Denver on Saturday.
Williams is among 40 competitors overall and is one of four finalists in the boys 14-15 age group. Finalists will be recognized during an on-field award presentation at the AFC Divisional Playoff between the Broncos and San Diego Chargers on Sunday.
---
Staff writer Max Henson and senior writer Bryan Strickland contributed to this report.