CHARLOTTE – Wide receiver Louis Murphy was getting set for his fourth training camp with the Oakland Raiders when he received news that shocked him. He had been traded to Panthers and was told to report to Spartanburg, S.C.
"It happened so fast. I didn't really have time to reflect on it," Murphy said. "A week before training camp, they traded me. I didn't get to see anyone really. I just left. That was pretty much it. This will be my first time seeing everyone since we broke for camp."
Murphy – who was selected in the fourth round by the Raiders in 2009 – didn't know what to make of the news at first, but he's grateful for the opportunity to play in Carolina.
"At the time I was a little confused, didn't know why (I was traded). Upset – that was the initial reaction," Murphy said. "But coming here made everything better -- being around these guys and this organization. I love being here."
The Panthers will host Murphy's former team at Bank of America Stadium on Sunday.
"I'm looking forward to it," Murphy said. "I marked it on my calendar early in the season."
Fullback Mike Tolbert just went through a similar experience in San Diego last week. Tolbert was a Charger for the first four years of his career before signing as an unrestricted free agent with Carolina this past offseason.
Like Murphy, Tolbert was eager for the opportunity to prove himself against his former team, and he wound up scoring two touchdowns in the first quarter of a 31-7 win.
Tolbert and the rest of the Panthers hope Murphy enjoys some individual success of his own on Sunday.
"We know (Louis) wants to go out and give his best performance, and we are going to do whatever we can to make sure that happens," Tolbert said. "I had a lot of guys coming up to me this past week before the game saying, 'We've got your back. We are going to do it for you.' That's a good feeling.
"You may be the new guy in the locker room, but everybody – regardless if you've been here six months or six years – they are going to have your back."
---
ROAD TO RECOVERY: Head coach Ron Rivera had positive updates on the recovery of several Panthers on injured reserve. Linebacker Jon Beason (knee), cornerback Chris Gamble (shoulder), wide receiver Kealoha Pilares (shoulder) and center Ryan Kalil (foot) are all working their way back to full strength after their respective surgeries.
"Chris Gamble looks really good with the shoulder repair there. Kealoha is progressing very nicely. Kalil looks great, and that's exciting. They tell me he'll be ready for OTAs and minicamp," Rivera said.
"Jon has progressed very well and his recovery has gone perfectly. Of course he's got to do the shoulder still."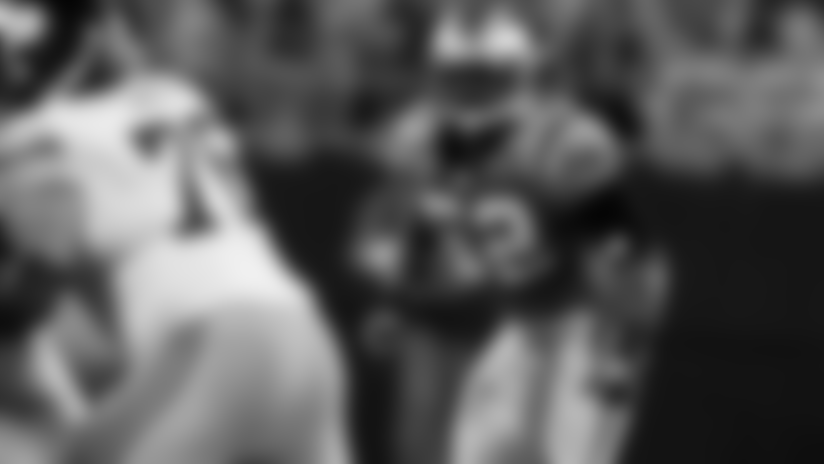 Beason, who had surgery on his right knee, will have surgery on his left shoulder in the near future.
In regards to his future on the field, Rivera suggested Beason may return as an outside linebacker. Rookie Luke Kuechly, who took over for Beason at middle linebacker after he was placed on IR prior to Week 5, is second in the NFL in tackles.
"It's most certainly something that we'll have to sit down and definitely take a look at," Rivera said. "But I will say this: When you look at the different skill sets, I think Jon has skill sets to play inside and outside, a little bit more than Luke does.
"Luke – his skill set lends more towards being an inside guy. It's still a ways away down the road. I think we may have found something here. You do what's going to be best for us."
---
TRYING TO GET HEALTHY: As for the injury situation pertinent to this week, starting right tackle Byron Bell joined backup lineman Thomas Austin on the sidelines with an illness.
Rivera said both have received medication, and the Panthers have taken action to prevent the illness from spreading to other offensive linemen.
"We had the room disinfected," Rivera said. "Hopefully everybody stays healthy."
Defensive tackle Dwan Edwards (wrist) and wide receiver Brandon LaFell (toe) missed practice for the second consecutive day, though Rivera said both got in significant work on the side.
While LaFell played about 20 snaps at San Diego last week, Edwards missed his second straight game but believes he could return Sunday.
"I've definitely got a shot," Edwards said. "I've been dealing with wrist pain since the Cowboys game (in Week 7). I've had a chipped bone in my wrist rubbing up against a tendon, and eventually it just sawed through the tendon.
"This is the best I've felt (since last playing in Week 13). I definitely feel better."
---
ABLE BODIES: Center Geoff Hangartner (foot) and running back Jonathan Stewart (ankle) again missed practice and were limited to getting in some work inside, heightening Rivera's concern about their chances of playing Sunday.
His concern is somewhat eased, however, by the way Jeff Byers played in place of Hangartner at San Diego and the way DeAngelo Williams has played during Stewart's three-game absence.
"DeAngelo is playing like he's capable," Rivera said. "Plus (Mike) Tolbert adds a little change of pace for us, and we're excited about Armond Smith. We think that right now we've got three guys that can carry the load."
Williams has turned a screen pass into a long touchdown in two consecutive games, and he rushed for a season-high 93 yards against the Chargers.
"It feels good, but the most important thing is that we're putting up Ws. That's the best part about it." Williams said. "There were a couple of guys on the sideline that were like, 'Man, you're seven yards away from a hundred yards.' I pointed to the scoreboard and said, 'I just want to win.'
"Stats don't matter to me as long as we win, and that's what we're doing right now."
---
Staff writer Max Henson and senior writer Bryan Strickland contributed to this report.