CHARLOTTE – For the majority of the last two seasons, defensive tackle Kyle Love has spent Sundays watching his peers play the game that he played at a high level the two previous years.
Thanks to the Panthers, Love now has another chance.
"I was anxious, frustrated, a little bit of everything, sitting at home and watching week after week other people play the sport that you love to play," Love said. "You can't do anything about it until somebody calls you, so I just really appreciate this opportunity."
Love started 25 regular season games and four postseason games for the New England Patriots from 2010-12, including Super Bowl XLVI at the conclusion of the 2011 season. He was a staple in the middle of their defensive front, renowned as a run stopper while also recording 5.5 sacks.
But the 6-1, 315-pounder had issues controlling his weight at times and has been diagnosed with Type 2 diabetes. The Patriots waived him during the 2013 offseason, and he ended up playing one game for both the Jacksonville Jaguars and the Kansas City Chiefs last season. He attended training camp with the Chiefs this season before being cut.
"I came for a workout with the Panthers, tried to do everything they asked me to do and tried to do it the best that I could," Love said. "Then they blessed me with the opportunity to come into this locker room.
"I know this is a physical team. That's the kind of football I like to play. Most people say I'm a run stopper, but I can give you some of everything. I can give you the run-stopping ability, but I also can get to the quarterback. And even if I can't, I'm going to put the offensive lineman in his lap. That's the kind of physical football I play."
To make room on the roster Monday for Love, the Panthers waived defensive tackle Micanor Regis, who was re-signed to the practice squad Wednesday. Tuesday, Carolina re-signed linebacker Horace Miller to the practice squad and terminated running back Tauren Poole from the unit.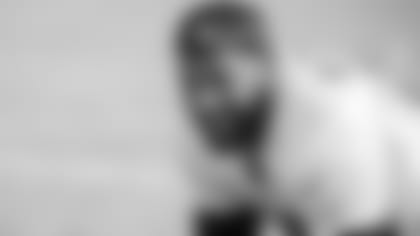 FRANK DISCUSSION: Another defensive lineman just as anxious to practice hit the field Wednesday. In fact, defensive end Frank Alexander hit the field early.
"I was out there 15 minutes early just waiting on everybody to come out there," Alexander said. "I was real anxious. Since September 7, I've been ready. It felt great to be back out there."
Alexander hadn't practiced since the start of the regular season when he began serving a four-game suspension for violating the NFL policy and program for substances of abuse. He was preparing to return in late September when he was suspended for 10 more games under the same policy.
"All of this has been a learning process and a growing process," Alexander said. "You've got to learn from it and then leave the bad part behind and move forward from there.
"I feel like I'm a better person now. When you have something that you love so much almost taken away from you, it makes you appreciate it that much more."
The Panthers were granted a roster exemption for Alexander, meaning the team has a week to decide whether to add their 2012 fourth-round draft choice to the 53-man roster.
"Probably Saturday we'll make a decision on that, or we can wait until the following Monday," head coach Ron Rivera said. "Frank looked good. It was good to have him back on the football field. We'll continue to see how it goes."
PRO BOWL VOTE: Luke Kuechly finished first in the fan portion of voting for the Pro Bowl among inside linebackers, topping the list with 340,870 votes. Greg Olsen was fifth among tight ends, and Ryan Kalil was seventh among centers. Fans, coaches and players each hold one-third of the vote. The Pro Bowl team will be announced December 23.