CHARLOTTE – Head coach Ron Rivera doesn't yet know whether it will be Derek Anderson or Cam Newton under center when the Panthers host the Cleveland Browns in Week 16, but he considers that a good problem to have.
"I'm confident in Derek. I'm confident in Cam," Rivera said Monday, one day after Anderson filled in for an injured Newton and steered the Panthers to a 19-17 victory over the Tampa Bay Buccaneers. "We're very fortunate. We've got two solid quarterbacks – a young one with all kinds of ability and potential, and another one that's very steady.
"It's a great situation to be in. We'll cross that bridge when we get there."
Rivera said Newton's status would be evaluated daily. Newton is just six days removed from a harrowing automobile accident that left him with two transverse process fractures in his back – an injury that's more about pain tolerance than anything.
"It all depends on how things happen today and then tomorrow with how he's progressed. Everything is going to be about the next day," Rivera said. "As he gets better, we'll increase his workload until we get to a certain point where he's back on the field."
As was the case when Newton missed the season opener while recovering from fractured ribs, team doctors will play a major role in the decision.
"The biggest factor will be them telling me whether he can protect himself," Rivera said. "I don't want to put a guy out there who can't protect himself. That's part of what went into the decision in the first Tampa Bay game.
"The doctors and the trainers are going to have a big influence on this. I believe he understands that, and he'll do the best that he can with his rehab and then at the appropriate time we'll make those decisions."
There's little doubt what decision Newton hopes is made.
"I know what kind of person he is, what kind of competitor he is," Anderson said. "If he can play, if he feels like he can play and go out there and win football games for us, he'll do that."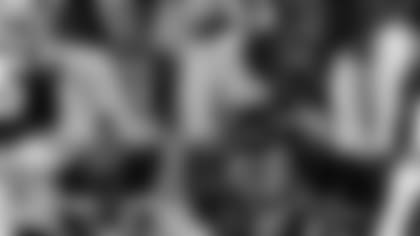 DAVIS DINGED: Linebacker Thomas Davis hyperextended his left knee against Tampa Bay but returned to action, and Rivera is fairly confident Davis will be ready for the Browns.
"He feels pretty good about it," Rivera said. "He'll get treatment tomorrow, and then we'll put him on the field Wednesday and see how he does. He may be limited on Wednesday, but he should be full-go by Friday."
Davis has torn the anterior cruciate ligament in his right knee three times, adding to the trepidation any time he goes down.
"I got scared. I was nervous. I didn't really know what to expect," Davis said. "It didn't quite feel like the rest of them, but something was going on with the other knee. I'm good right now. Sore, but it's nothing that I can't deal with."
Monday, Davis was named one of eight finalists for the inaugural NFL Sportsmanship Award. Each team selected one player for the award, and now Davis joins Arizona wide receiver Larry Fitzgerald, Detroit wide receiver Calvin Johnson and Minnesota linebacker Chad Greenway as finalists representing the NFC. The finalists from the AFC are Denver defensive end DeMarcus Ware, Pittsburgh safety Troy Polamalu, Kansas City quarterback Alex Smith and New England wide receiver Matthew Slater.
The winner will be announced during the "NFL Honors" show on the eve of the Super Bowl.
BEAR DOWN: Regardless of the playoff picture, Rivera would be pulling for the Chicago Bears against the New Orleans Saints on Monday Night Football.
But with the Panthers needing the Saints to lose one of their final three games for Carolina to possibly capture their second consecutive NFC South title, Rivera might take it to the next level.
"Without a doubt, I'm cheering for them," Rivera said. "I might even break out my old jersey."
Rivera played linebacker for the Bears from 1984-92 and had two stints on their coaching staff after working as a television analyst in Chicago upon his retirement.