CHARLOTTE – Quarterback Cam Newton hurt his ankle when a Saints defender landed on it at the end of a scramble in the second quarter of Sunday's game, but head coach Ron Rivera reiterated that Newton is fine.
"It was tweaked," Rivera said. "He feels pretty good today. He came in and got some treatment. He just rolled it."
Newton's mobility may have been slightly limited for a brief time in the game. The minor ankle injury contributed to Newton carrying the ball just four times for six yards.
"Part of it," he said. "You have to be smart and make sure the situation calls for it."
Defensive tackle Colin Cole and linebacker Chase Blackburn also suffered injuries in Sunday's game. Cole strained his calf and is day-to-day. Blackburn's foot injury flared up and will receive treatment as usual.
SPECIAL EFFORT: Did punter Brad Nortman feel like he was in a zone in the win over the Saints?
"Yeah," he said with a smile. "I would say that."
In the midst of a monsoon, Nortman averaged 50.8 yards on eight punts with a long of 60.
His first punt of the second half traveled 41 yards and was downed by cornerback Josh Thomas at the Saints' 2-yard line.
His next punt at the start of the fourth quarter went 57 yards and was downed by safety Colin Jones at the Saints' 3-yard line.
"All the punts I hit were exactly how I wanted them to be," Nortman said. "It was a big game, so to be able to hit those kind of punts was big time. In close games like that, special teams needs to do its part."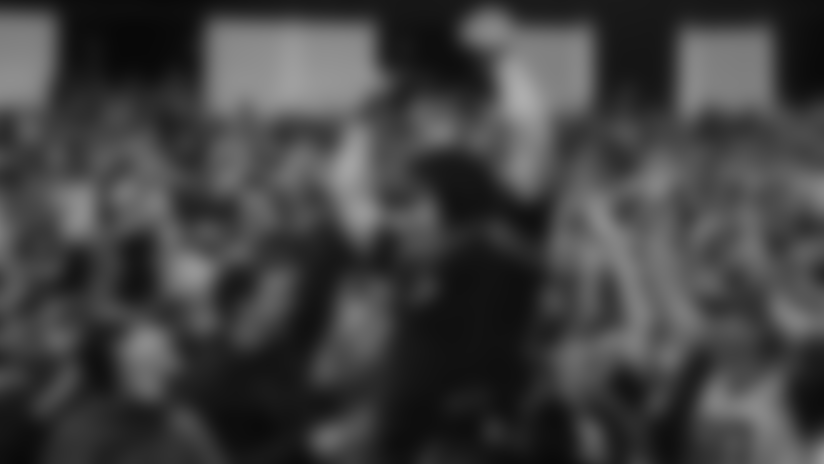 APPLAUDING THE CROWD: Players and coaches raved about the atmosphere created by the fans during Sunday's game.
"The crowd was phenomenal," Rivera said. "I love the fact they stayed to the very bitter end. I've heard from people it might have been one of the loudest crowds they've ever heard."
Said linebacker Thomas Davis: "It was extremely exciting. We fed off the energy of the crowd. They were into the game, and as a defense, we always get excited. I feel like we make more plays when they are into the game. We feed off of their energy."
The noise only seemed to increase when the skies opened up and the rain relentlessly poured.
And when the Saints took the field for the game's final series, the press box shook.
"That was awesome, wasn't it?" defensive coordinator Sean McDermott said. "Just tremendous."
The win over the Saints clinched a playoff berth and the Panthers know that a victory in the regular season finale at the Atlanta Falcons will give them at least one more game at Bank of America Stadium this season.
"That was a huge advantage. You could see the Saints not being able to communicate. Their line was making mistakes," safety Mike Mitchell said. "If we take care of our business and potentially have another one here at home – that's a treat right there. It's worth a lot."