CHARLOTTE – Quarterback Cam Newton called Sunday's showdown with the New Orleans Saints "just another game."
But before fans from either side shake their head or shake their fist, they need to understand how Newton and his teammates have approached every game this season.
"We've had the same approach since Week 1," Newton said. "Guys have been focused and have understood the magnitude and have put their signature on each and every play.
"Guys are going to be hungry to play this game."
The Panthers have consistently treated the next game as the most important game, and this week that approach just happens to match up with the outside world's view of the matchup. The winner clinches a playoff berth and seizes control of the NFC South race.
"We're looking at it as, 'Why not us?' This is an opportunity that has so much promise in it…if we do what we have to do," Newton said. "If we win this game, we have our confirmation of being in the playoffs.
"But it's going to take each and every person paying attention and holding themselves accountable for each and every play."
As if the Panthers need any extra motivation, their performance less than two weeks ago at New Orleans will provide just that. The Saints rolled to a 31-13 victory, handing Carolina its lone loss in its last 10 games.
"We really got embarrassed a couple of weeks ago," Newton said. "This is our opportunity to prove to ourselves that we are who we think we are."
STANDING OVATION: The Mercedes-Benz Superdome crowd added to Carolina's challenge in New Orleans, and now Newton believes the Bank of America Stadium crowd is ready to return the favor.
"There's been a lot of talk about how loud the Superdome can get, and no one is mentioning how loud Bank of America can get. The past couple of games, it's been extraordinary," Newton said. "We're going to need that and then some Sunday.
"I believe and stand by this firmly that we have the best fans in the NFL because we have a fan base from two states that collide into one fan base."
The crowd will get an added boost shortly before kickoff when linebacker Thomas Davis becomes the first active player to bang the "Keep Pounding" drum.
"It definitely means a lot to me and my family," Davis said. "I'm very excited to have been selected."
STEWART TO SIT: The Panthers returned to the practice field Wednesday minus running back Jonathan Stewart, whom head coach Ron Rivera ruled out for the Saints game after Stewart had his injured knee re-evaluated Wednesday.
Stewart suffered the injury in the first meeting against the Saints. In his absence last week versus the New York Jets, DeAngelo Williams accounted for 81 of the Panthers' 131 rushing yards.
"He's progressing very nicely, but we don't anticipate him playing this week," Rivera said. "DeAngelo ran the ball well, and Mike Tolbert ran the ball well. Cam had a few runs that were really good for us as well.
"We're where we need to be as a football team as far as running it. You'd always love to have another good running back like Jonathan, but we'll go with who we've got right now."
Wide receiver Steve Smith jammed a finger late in practice and missed a handful of snaps. Tight end Greg Olsen rested his nagging foot injury, while offensive linemen Jordan Gross and Travelle Wharton had a veteran's day off.
The best news might have been that safety Mike Mitchell, who banged up his shoulder against the Jets, wasn't listed on the injury report.
"He looked great," Rivera said. "He didn't seem to have any residual effects from the game."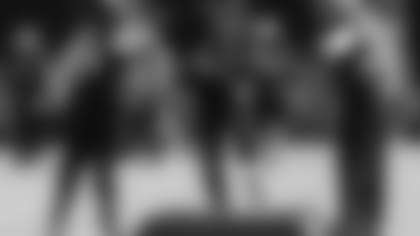 PRACTICE PACE: Rivera said he liked what he saw from the Panthers in practice.
"There was good energy. I thought guys moved around with confidence," he said. "Defensively, the guys were sharp and did some really good things. Offensively, I thought there were some real positives as far as the passing game and how the offensive line worked."
Rivera pointed to cornerback Captain Munnerlyn as an example of how practice can carry over to game day. Munnerlyn returned an interception for a touchdown and recorded two sacks against the Jets following a strong work week.
"How important is practice? He practiced pretty darn good last week," Rivera said. "Maybe it was because somebody made a comment about the secondary, or maybe it was because he felt he needed to step up. But he practiced pretty doggone good, and he practiced well again today. Whatever switch has been flipped, I hope it stays flipped."
STANDING TALL: Munnerlyn certainly was feeling his oats after practice, challenging fullback Mike Tolbert to line up beside him to see who is taller. Munnerlyn, listed at 5-8, appeared to have a hair on Tolbert, listed at 5-9.
"It's OK, Mike," Munnerlyn shouted as Tolbert returned to his locker. "We can still be friends."
"You have on four pairs of socks," Tolbert shot back.