CHARLOTTE – One way or the other, the NFC South is set to continue its streak of never having a repeat champion.
Obviously, the Panthers prefer one way over the other.
A victory the Atlanta Falcons or a New Orleans loss to Tampa Bay on Sunday would earn the Panthers their third NFC South crown. The other three teams also have cliamed three titles since the division formed in 2002.
"We bump heads a lot, and you never know who is going to come out on top," defensive end Charles Johnson said. "Sometimes it comes down to health. Sometimes it comes down to who has the best plan for that year. A lot of things play into it, but it's a great division."
Not only have the other seven current divisions had repeat champions, five of them have had more than one team repeat. The exceptions are the AFC North, where the New England Patriots just wrapped up their 10th title in 12 years, and the AFC South, where the Indianapolis Colts just earned their eighth title.
Only twice has the defending NFC South champion even finished as runner-up the next year. The Panthers, of course, hope to buck that trend if they're able to prevail over the Saints.
"And I expect Atlanta to be back next year and Tampa to challenge," head coach Ron Rivera said. "You look at each team in this division, and we all have what we believe is our franchise quarterback – I know that Tampa feels very good about Mike Glennon. Each team has a very good defense, playmakers at wide receiver, and running back and tight ends that can make plays.
"This is going to be a tough division for a long time."
PROS AND CONS: Linebackers Luke Kuechly and Thomas Davis have enjoyed Pro Bowl-caliber seasons, but there's no guarantee that they'll enjoy Pro Bowl status.
Safety Mike Mitchell, himself a strong candidate, sounds like he'd be more upset for them than upbeat for himself if the duo didn't make it.
"If they didn't go and I went, I would be happy for myself but would be extremely disappointed in the voting process," Mitchell said. "They deserve it. They're huge anchors in our defense. Who is playing the position better than they are?
"It would be a catastrophe."
Kuechly, third in fan voting at inside linebacker last week before his 26-tackle game, seems to be in good shape. It's a more tenuous situation for Davis, who wasn't in the top 10 at outside linebacker last week. Fan voting ended Thursday, and the Pro Bowl selections will be announced Friday.
The good news for Davis is that coaches and players account for two-thirds of the vote, but it may still be an uphill battle. That's because the outside linebacker group includes rush linebackers in 3-4 schemes that have a chance to produce more eye-popping numbers. Davis is competing against nine outside linebackers with double-digit sack totals, all of whom play in 3-4 defenses.
"If he did rush every play, I'm sure he could get just as many sacks as everyone else is getting," Mitchell said. "They've got to figure out a way to separate it out."
RECEIVING AN OPPORTUNITY: Wide receiver Marvin McNutt is preparing as if he'll play Sunday, but that was his approach even before the knee injury sidelining Steve Smith opened the door.
"This is what you dream about as a kid, and I come out every day and prepare as if I'm going to play," McNutt said. "You don't want it under these circumstances, but I'm definitely thankful for the opportunity.
"I just hope it comes along with a speedy recovery for Steve, but anytime you get to play football, you've got to be excited – especially on Sundays."
McNutt, the University of Iowa's all-time leader in receiving yards and receiving touchdowns, played in four games as a rookie with the Philadelphia Eagles in 2012 but didn't record any stats. He spent the first five weeks this season on the Miami Dolphins' practice squad before Carolina signed him to the active roster, but he's yet to be active for a game.
"Obviously, my role won't be what Steve's is, but it's about helping out wherever I can," McNutt said. "I've got to be just as sharp as if I was playing 70 plays."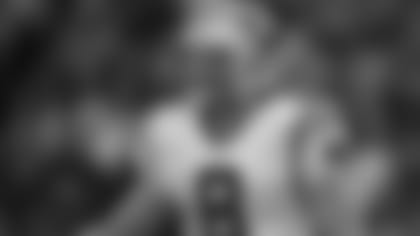 KICKING IT: The Panthers easily could have had two players of the week given the way Brad Nortman boomed and placed punts with equal aplomb against the Saints.
Nortman set the tone for his day with a 55-yard punt – which proved to merely be his fourth-longest. In the second half, he skied a punt that was downed at the 2-yard line, then launched/landed a 57-yarder at the 2.
It all added up to a 50.8 gross-yardage average and a 47.0 net-yardage average.
"When the field gets so wet, it tends to catch better. It's not going to take as strong a bounce," Nortman said. "Now once the ball hits the ground it's up to God where it goes, so I just kicked it where I wanted to and luckily it died there.
"Colin Jones made the comment that it was just a nice pitching wedge. Made a little divot. They caught exactly how I wanted them to."
Nortman now ranks fourth in the NFL with a 47.7 gross average and fifth with a 41.7 net average.GOOD GREG: Tight end has been selected as this year's winner of the Tom Berry Good Guy Award by the Carolinas chapter of the Pro Football Writers of America.
The award is named for Tom Berry, the long-time Panthers beat writer for the High-Point (N.C.) Enterprise who passed away near the start of the 2009 season. Each year, the award goes to the player the local writers believe is most helpful to the media. Past winners include Jordan Gross and Captain Munnerlyn.
Olsen, always approachable in the locker room, is approaching his team records for receptions and yardage by a tight end set last year and ranks fifth among NFL tight ends in receptions (67), sixth in yardage (774) and ninth in touchdowns (five). Last season, he caught 69 passes for 843 yards and five touchdowns.