ORLANDO – On Monday, NFL Commissioner Roger Goodell opened the league's annual meeting at the Ritz-Carlton in Orlando with a presentation to the club owners, general managers and coaches, saying the league has "never been better."
Goodell closed the proceedings on Monday by meeting the press. He touched on a number of issues, including several below which impact the entire league.
On more regular season and/or postseason games: "We've always said we would have negotiation on those issues. We have had discussions about the extended postseason. We will likely have more."
On player safety: "Players have adjusted to the rules, and they are finding that target zone. It is a safer and better game because of it. We think the changes have been very effective."
On the salary cap increase: "What we said to the players several years ago was, 'We need to create a system where we invest and build revenues.' We have long-term stability and we have a system that encourages us to invest. What it has done is it has led to long-term increases in revenue. We got long-term media contracts. This is the first year of those new contracts, and you are seeing increases in revenues. The players are going to see increases in the cap as a result of that. That's a positive thing. This is working as intended."
---
COMPENSATORY PICKS AWARDED: The Panthers did not receive any compensatory picks for the 2014 NFL Draft.
Under the rules for compensatory draft selections, a team losing more or better compensatory free agents than it acquires in the previous year is eligible to receive compensatory draft picks. Most often, a compensatory free agent is defined as a player who was signed or lost in the category of unrestricted free agent and remained on the signing team's roster during the regular season.
Compensatory free agents are determined by a formula - developed by the NFL Management Council - that is based on salary, playing time and postseason honors. However, not every free agent lost or signed by a club is covered by this formula; therefore, not every free agent lost by a club results in a compensatory pick.
Carolina currently has seven selections in the seven-round draft, holding choices in the first, second, third, fourth, fifth and sixth rounds plus a seventh-round pick acquired from the New York Giants last October in exchange for linebacker Jon Beason. The Panthers traded their own seventh-rounder to San Francisco for safety Colin Jones prior to the start of the 2012 season.
---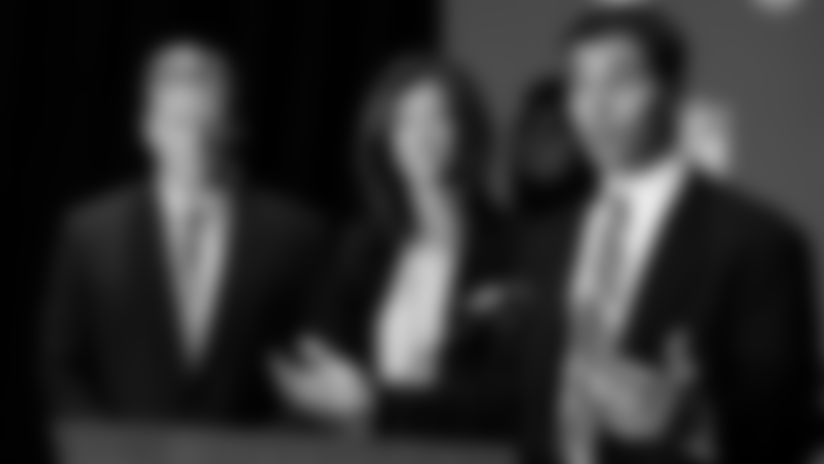 COMMITTED TO YOUTH: The NFL Annual Meeting brings the most powerful men in the sport together. They are here to discuss matters affecting the game at the highest level, but an announcement on Monday was made to strengthen the game at the grassroots level.
The NFL Foundation granted $45 million to USA Football to help support the growth of youth football.
"We are committed to youth football," Goodell said. "We support it, because we believe in the game. We believe in the principles that it teaches. We want to make sure kids have that opportunity.
"This is an effort that we are very proud of."
USA Football, the official youth development partner of the NFL, will use the grant to bring Heads Up Football to all 10,000 youth football leagues across the country and make the game safer for the kids who play it. The program will focus heavily on teaching children fundamentals and health and safety protocols.
"This investment is going to help us continue to grow this program," USA Football executive director Scott Hallenbeck said. "Our goal is to have every single youth and high school coach certified; every youth and high school program participating in Heads Up Football. We can do that with this kind of support."