CHARLOTTE – Tight end Greg Olsen offered his take on the widely debated series that led to a missed 46-yard field goal by kicker Graham Gano, which would have given Carolina a one-point lead against the Atlanta Falcons with 1:26 left.
"Those three plays called should have gotten more than four yards," Olsen said. "That's on us. That's on the players, the execution, the blocking, the whole package. You have to be able to run the ball in this league when they know you are going to run it."
On first down from the Atlanta 32-yard line, running back DeAngelo Williams rushed up the middle for one yard. On second down, quarterback Cam Newton ran off right guard for four yards. On third down, running back Jonathan Stewart lost a yard up trying to run up the middle.
"We forced them to use their timeouts, which was good, but we only burned off maybe ten seconds," Olsen said. "We have to do a better job putting our foot down and grinding out a first down or get closer for a field goal."
Olsen didn't question the decision not to throw the ball.
"That's not our decision to make as players," Olsen said. "When the play comes in, those plays are designed to be successful."
A tried and true formula for winning football involves running the ball with purpose and success late in tight games.
"We worked our tails off to fight our way back into the game," Olsen said. "When we needed to be at our best offensively, we weren't."
NEWTON CHECKED: Quarterback Cam Newton was checked for a concussion following a helmet-to-helmet hit by Falcons defensive tackle Tyson Jackson on Carolina's first offensive play of the game.
"He was fine," head coach Ron Rivera said. "He caught it on the chin. Once he talked to the trainers and explained where he got hit, they checked him to make sure he didn't bite his lip or tongue or anything like that."
Newton said the hit "wasn't affecting me at all." He completed 23-of-37 passes for 292 yards. He threw two interceptions but tossed two touchdowns to give Carolina a 17-16 lead in the fourth quarter. But it wasn't enough.
"You try to give your guys opportunities to make plays for you, and I know sooner or later the tables are going to turn in our favor as well as this season," Newton said. "A couple of games we've had, things just weren't going our way. I'm a firm believer in that, but we can't just sit back and wait for things to happen. We have to go out there and do it. I have a belief in everybody in that locker room."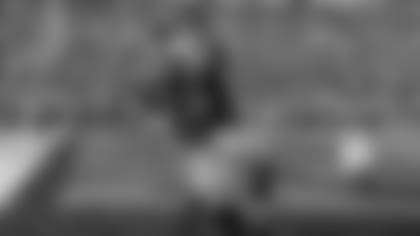 SIZING UP NO-CALLS: Is rookie wide receiver Kelvin Benjamin's size (6-foot-5, 240 pounds) playing a role in the lack of pass interference calls going his way?
"It's getting to the point where he's so big and strong he doesn't get the benefit of the doubt," wide receivers coach Ricky Proehl said.
Benjamin said he's dealt with excessive contact since college.
There appeared to be excessive contact from cornerback Desmond Trufant when quarterback Cam Newton threw a fade to Benjamin in the end zone late in the first quarter.
Said Rivera: "I thought there was some contact, but I'm not the one making the judgment. Sometimes, it feels like the Shaquille O'Neal treatment. He's a big guy and he may get hammered, he may get hit, but he doesn't fall down. That might play into the decision making, I'm not quite sure."
INJURY UPDATES: Offensive linemen Andrew Norwell and Nate Chandler suffered injuries during the loss to the Falcons.
Rivera said Norwell tweaked his hamstring during Gano's 46-yard field goal attempt. The guard said he believes it is "nothing serious."
Chandler is dealing with swelling in his knee and will undergo a precautionary MRI.