CHARLOTTE – The popular black-on-black uniform the Panthers featured once in each of the last two regular seasons is ready to make its postseason debut.
Players were informed Wednesday that when they take to the Bank of America Stadium field on Jan. 12 for an NFC Divisional Playoff, they'll do so in black jerseys and pants.
"It's sweet," defensive end Charles Johnson said. "Anytime we wear the all-black, it's all good."
Thanks to overwhelming fan response, the all-black look won a 64-uniform bracket contest last summer on NFL.com that crowned the "Greatest Uniform in NFL History."
"I know our fans love it," kicker Graham Gano said. "I love the black-on-black look. It's probably my favorite uniform.
"We love all of our uniforms, but because we haven't worn black-on-black too often, it's still pretty exciting."
The Panthers wore white jerseys and white pants for the first nine playoff games in franchise history, winning six times – including both times they wore the combination at home. They sported black jerseys and silver pants in their most recent playoff game, a home loss to Arizona that ended the 2008 season.
Carolina lost when the black-on-black look debuted in 2012 versus Denver but defeated the New York Jets while wearing it in Week 15 this season.
 "You're not going to win or lose a game on what you wear," Johnson said. "It's all about preparation."
TICKET TAKERS: Playoff tickets went on sale Wednesday morning but didn't stay on sale very long.
Approximately 7,000 tickets sold out in three minutes.
"That's crazy," cornerback Captain Munnerlyn said. "I know the stadium is going to be loud. It will be a very intense crowd, and we appreciate that."
Added head coach Ron Rivera: "That's exciting. It really is. It speaks very well to our fans and the support we've gotten all year. They've been outstanding."
Phil Youtsey, the Panthers' longtime director of ticketing, thanked fans who bought tickets Wednesday as well as the team's PSL Owners for helping make the Panthers' 114th consecutive sellout possible.
"We want to thank fans for their tremendous support for this game, throughout the season and for the past 19 years," Youtsey said. "We are very proud of our fans, who are loud and respectful and help make one of the best stadiums in the NFL even better."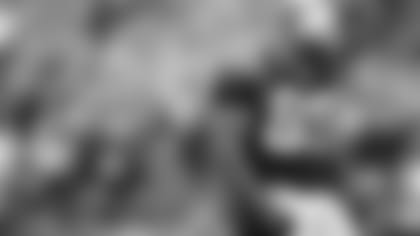 INJURY UPDATE: The Panthers will hold wide receiver Steve Smith out of practice this week as he continues to recover from a knee injury, but Rivera said he feels "confident about all our guys playing."
"I think Steve will be where we need him to be," Rivera said. "Steve is right on schedule and is doing a great job. He's feeling better every day – at least that's what he's telling me. You know Steve, he's going to do everything he can."
Smith and tight end Ben Hartsock weren't on the field when the Panthers conducted a walkthrough inside the stadium Wednesday, but Hartsock said he could have returned to action after he left last Sunday's regular season finale with a re-aggravation of his knee injury.
"If we would have had another guy go down, I probably would have been pushed back in there," Hartsock said. "This is just a setback on the initial injury. The MRI didn't show any new damage or anything like that, and that's a good thing."
Defensive tackle Colin Cole and running back Jonathan Stewart were on the field Wednesday. Cole missed the Falcons game with a calf injury, while Stewart missed the last three games with a knee injury.
"I'll be ready when it's time to start the game next week," Cole said.
NUMBERS GAME: Rivera said practices this week would focus on improving the things the Panthers do but would also include some preparation for their playoff opponent.
The Panthers won't know until this weekend who their opponent will be, but they do know some things about the three potential teams – the Philadelphia Eagles, Green Bay Packers and San Francisco 49ers.
"One beneficial thing on the offensive side is that all three teams we can potentially face have 3-4 defenses," Rivera said. "That's a plus as far as our preparation is concerned."
ROSTER MOVE: The Panthers have signed rookie tight end D.C. Jefferson to the practice squad and have terminated running back Armond Smith from the squad.
"He's a nice-sized guy with good, physical athletic ability," Rivera said. "He has long arms, good hands, runs decent routes and is good at the point of the attack."
The 6-6, 255-pounder from Rutgers was selected in the seventh round of the 2013 NFL Draft by the Arizona Cardinals. He spent the first eight games on the roster, playing in four games, before being waived on Nov. 4.