CHARLOTTE – Quarterback Cam Newton was sporting a special glove on his right hand to help with thumb soreness during Wednesday's practice, and he was listed as a limited participant with a right thumb injury.
Head coach Ron Rivera said the soreness was from the Miami game prior to the bye week. He also added that Newton also was limited by his throwing shoulder, as has been the case throughout the season.
Center Ryan Kalil (neck) was a limited participant, and his status for Sunday's game against the Jets remains unclear. But is sounds like Larsen will be available to start his ninth game of the year if Kalil needs more time.
"It was a little bit more precautionary," Rivera said of holding out Larsen on Wednesday. "He did all the walkthrough stuff, the installation stuff, so he should be good to go."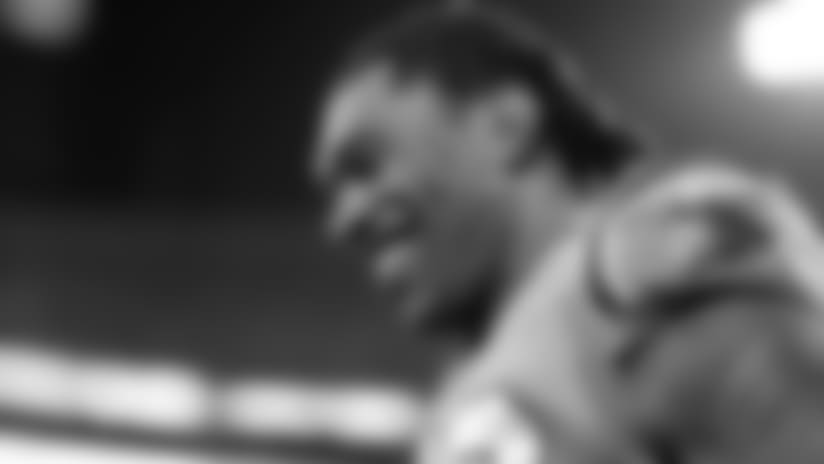 TWO OF A KIND FROM 2002: This week's matchup between the Panthers and Jets features two of the three players remaining on active rosters from the 2002 NFL Draft: defensive end Julius Peppers and quarterback Josh McCown (the other is newly-acquired Lions defensive end Dwight Freeney).
Peppers leads the Panthers with 7.5 sacks at age 37, and everyone across the league has marveled at his refusal to show any signs of slowing down.
"It's unbelievable," Jets head coach Todd Bowles said. "He's playing like he's 25 years old. That's a credit to him and keeping his body in great condition, not taking the game for granted. Obviously he studies and he's a great technician. That's just who he is."
McCown has the third-highest completion percentage in the NFL (69 percent), and he boasts an impressive 93.7 quarterback rating at age 38.
"For his age, he still throws a very good ball," Rivera said of McCown, who was a backup in Carolina from 2008-09. "His timing is good, he's smart and he sees things. He's a savvy veteran, and he'll take his shots (down field). He's shown he's not afraid to."
IMPRESSIVE JETS ROOKIES: Rookie safety Jamaal Adams was among Carolina's favorite prospects leading up to the 2017 draft. The former LSU star was in the conversation for the Panthers at the No. 8 spot, albeit briefly.
The Jets wound up drafting Adams with the sixth overall pick, and as we all know, the Panthers were happy to select running back Christian McCaffrey.
Adams hasn't yet recorded an interception, but he has two fumble recoveries along with two sacks and he's lived up to expectations by bringing the physical presence he became known for in college.
"I saw No. 33 when he was coming out," wide receiver Devin Funchess said. "He was an animal at LSU."
Added McCaffrey: "I love watching him play. Jamal in college was a 'G,' and he's a good player in the league as well. It will be fun to compete against him."
After selecting Adams, the Jets doubled up at the safety spot by drafting Marcus Maye out of Florida in the second round. Maye, who lines up more often as the deep safety, is tied for the team lead with two interceptions.
A tandem of rookies serving as the last line of defense is certainly uncommon, but the Jets are thrilled with what they've seen from the pair so far.
"They can play," Bowles said. "It's rare that these type of things happen, but those two guys showed so much in the spring in what we brought them along with, they can only get better. Their maturity level, as far as learning the plays, exceeded what we wanted for our expectations as a rookie."
View practice photos from the week leading up to the Panthers' game against the Jets.