CHARLOTTE – After three consecutive seasons of Pro Bowl-caliber play from linebacker Thomas Davis, his head coach couldn't wait to hear Davis' reaction to actually making the Pro Bowl.
"Man, you could hear it in his voice," head coach Ron Rivera said. "You could tell he was thrilled."
Davis was one of an NFL-best and franchise-record 10 Panthers selected to the Pro Bowl. Front office personnel get a short heads-up on which of their players have made the team so they can be the ones to deliver the news. Rivera, defensive coordinator Sean McDermott and linebackers coach Al Holcomb were in the room when general manager Dave Gettleman called Davis on Tuesday evening.
"He was at a charity event – which is typical of Thomas – giving out Christmas presents," Rivera said. "I wanted to hear his reaction. Here's a young man who has gone through so much, who has accomplished so much, and this was the one thing he didn't have on his resume.
"To see him be recognized by his peers and the fans is outstanding. It's a thrill as a coach."
Davis, in his 11th NFL season, and eighth-year running back Jonathan Stewart were among Carolina's five first-time honorees. The five repeat selections included tight end Greg Olsen, who was picked for the first time last year in his eighth season.
"I'm really happy for TD, happy for Jonathan Stewart, for a couple of guys later in their careers, to finally make it," Olsen said. "I know what that's like. You work for a long time, you play well, you do everything you think you can, and then finally you break through towards the end of your career.
"I'm really happy for those guys. They earned it. They deserve it."
COLEMAN DESERVING: One Panther who just missed the Pro Bowl cut was Kurt Coleman, whose seven interceptions rank second in the NFL and are the most ever for a Carolina safety.
"Every guy that was picked definitely deserves an opportunity to go. I think when it's my time, it's my time," Coleman said. "I'm just blessed to be a part of this team and have the success that I've had.
"Whether I get nods or notoriety, I just want to win. I want to win it all. That means more to me than individual awards."
Rivera, too, believed Coleman deserved consideration and pointed out that as second alternate, Coleman could find himself on the team at some point.
"You could say that very easily about Kurt, but there's a lot of things that go into voting," Rivera said of Coleman, a sixth-year pro in his first season with the Panthers. "Part of it is name recognition, and this is his first year of really stepping up and becoming a very relevant player. I would have loved to see him get the opportunity, but he was voted as second alternate, which is outstanding."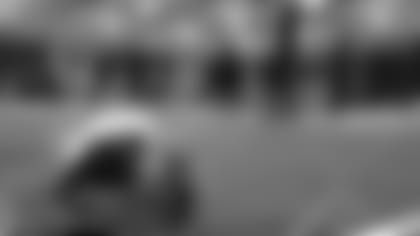 UNCONVENTIONAL PREP: Rainy conditions forced the Panthers to take practice inside for the first time this season, meaning Coleman got his first dose of practice in the Crown Ballroom at the Charlotte Convention Center.
"That was actually more up-tempo than I expected. That was a productive practice," he said. "We were focused and keyed in. The film will be interesting to watch because of the angles, but we got a lot out of it."
It wasn't a surprise to Olsen, who has danced this dance before.
"As in the past, it hasn't really affected our preparation at all. We got good work in." Olsen said. "This time of year, any time you get a chance to save the legs, save on the pounding, that's kind of our approach to begin with so it wasn't a big deal."
HORTON HOPEFUL: For the second consecutive day, practice included defensive end Wes Horton, whose four-game suspension for violating the NFL's policy on performance enhancing substances ended this week. The team has until Monday to decide whether to add Horton back to the 53-man roster.
Horton is thankful to have been given a shot to earn a spot back on the roster.
"If they don't need you, you easily could be someone that ends up getting released," Horton said. "I knew it was a possibility, but I prayed and had faith in God."
INJURY UPDATES: While Horton practiced, Stewart (foot) and linebacker David Mayo (hamstring) did not. Defensive end Charles Johnson was limited by a calf injury that cropped up pregame Sunday at the New York Giants, while wide receiver Ted Ginn, Jr. was limited after temporarily leaving the Giants game with a rib injury and also suffering a quad injury.
"He didn't practice today but he did move around, did some of the individual stuff, did some walkthrough stuff and then sat off to the side," Rivera said. "Any type of injury to a speed guy's legs is always concerning, but in terms of him playing this week, I expect him to be out there tomorrow running around and getting loose, then we'll have Christmas off and see him on Saturday morning."