CHARLOTTE – Ron Rivera got an opportunity during the offseason to spend some time with three of the best coaches the NFL has known.
Rivera, whose Panthers will carry a four-game winning streak into Sunday's showdown at San Francisco, believes he's a better coach for it.
"The insight that you learn from these people is tremendous," said Rivera, who sat down with John Madden, Bill Cowher and Mike Ditka at different points during the offseason. "They all came around to saying, 'Be true to who you are.'
"I've learned a lot. Did I make mistakes? Without a doubt. Did I do some good things? Absolutely. Am I better? Without a doubt in my mind I'm better. The challenge now is to continue to win."
As a part of a trip last spring to visit his parents in California, Rivera contacted Madden and asked if he could meet with him. The 77-year-old Madden, a legendary broadcaster who coached the Oakland Raiders to a victory in Super Bowl XI, prepared for Rivera's visit by watching tape of the Panthers.
"He liked us a lot. He was concerned about us giving the ball a little too much to the quarterback. I listened to every word he said and took notes on it," Rivera said. "It was a great conversation. As a young coach when you get an opportunity to spend time with somebody like him, it means a lot."
Rivera also crossed paths with Bill Cowher and Mike Ditka. Cowher won Super Bowl XL as Pittsburgh Steelers head coach, and Ditka won Super Bowl XX as Chicago Bears head coach – a team that featured Rivera at linebacker.
"One of the things he (Cowher) told me was, 'Ronnie, with the way you finished things, just stick with it. It's going to turn,'" Rivera said. "I really appreciated that. It was the same thing visiting with Coach Ditka and then with having a chance to sit down and talk to John Madden."
MAGICAL MOVES: Another thing that makes for a great coach is great players that make great plays. Rivera has one in quarterback Cam Newton, who reminded Rivera of his playing days with a remarkable scramble and completion in Sunday's victory over Atlanta.
"Houdini. We used to say that anytime Barry Sanders would run the ball," Rivera said. "That echoed in my mind as I watched him escape with them trying to sack him and found Steve Smith and got the ball to him."
The play occurred early in the second quarter, when Newton appeared to be bottled up by several rushers but used some remarkable footwork to get out of the jam and find Smith for a 23-yard gain. A reporter asked Newton on Wednesday if he was amazed watching the play on film.
"Not really because it's already been done in practice," Newton said. "(Quarterbacks) Coach (Ken) Dorsey does a great job of putting us in some screwed-up situations. He stresses our body as much as he can to get the most out of us. 'There's pressure to the left so scramble back to the right; throw on the run; stop and set back up in the pocket.'
"We actually deal with those things in practice because you never know when something like that may happen in a game."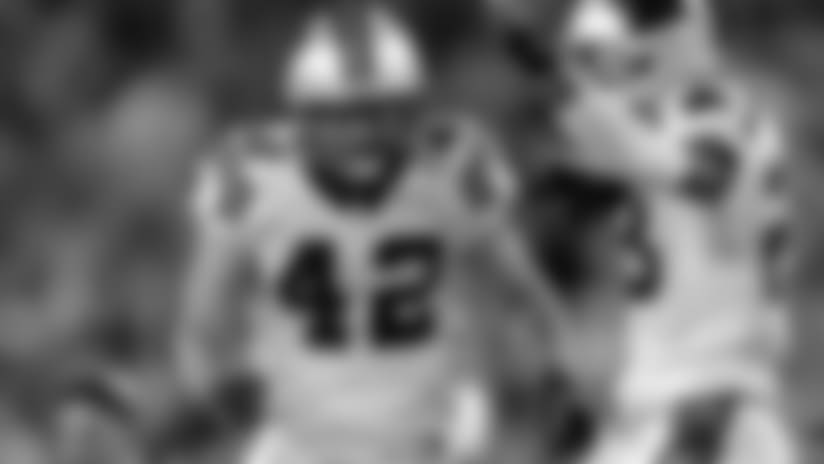 BACK TO THE BAY: Wide receiver Ted Ginn's return to San Francisco, where he played the previous three seasons, will be a hot topic this week, but a player making a similar return but not used to making headlines will be in action as well.
Prior to the start of the 2012 season, the Panthers acquired safety Colin Jones in a trade with the 49ers.
"I've got a bunch of buddies that still play on the team, so it will be fun to go back out to Candlestick and play again – especially since it's the last season for Candlestick," Jones said. "I'm looking forward to it. I had a great experience there. I learned a lot."
San Francisco drafted Jones, a special team stalwart, in the sixth round of the 2011 draft out of Texas Christian.
"I got drafted solely for special teams, and that's what I like to do," Jones said. "I consider myself a starter as a four-phase special teams player, and I just try to do whatever the team needs me to do.
"I love it here. I love Coach Rock (Richard Rodgers) and Coach (Bruce) DeHaven. We've got a good group going with a lot of positives. And Ted, I know he's real excited to go back."