CHARLOTTE – Running back Jonathan Stewart topped 100 yards on the ground for the third time in five games in Saturday's playoff victory, and he had plenty of help from all angles.
"The offensive line just blocked their behinds off," said Stewart, who finished with 123 yards and touchdown on 24 rushes. "They opened lanes, and all I had to do was run through them and just do my part."
Other backs did their part as well. Quarterback Cam Newton rushed for 35 yards, and running back DeAngelo Williams saw some snaps after missing the previous four games with a hand injury. Williams gained 16 yards on four attempts.
In addition, fullback Mike Tolbert and running back Fozzy Whittaker touchdowns. Whittaker provided what proved to be the winning score on a 39-yard catch and run. It was quite a moment for Whittaker, who wasn't given much of a chance to make the roster when he signed with the Panthers at the start of training camp.
"I have always believed in myself, and being a part of this family is truly a blessing," Whittaker said.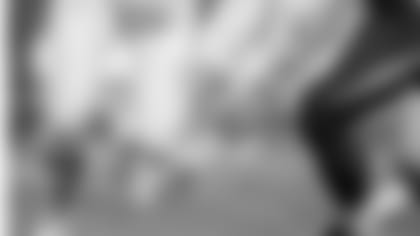 FLIPPING THE FIELD: By the time Brad Nortman punted for the first time midway through the second quarter in the NFC Wild Card Playoff, his counterpart for the Arizona Cardinals had already been involved in some of the biggest plays of the game.
Nortman certainly made up for lost time.
"Taking advantage of field position was a big part of our win," Nortman said. "I'm glad I executed and we benefited."
Some early struggles for Cardinals punter Drew Butler set up the Panthers in prime field position to run out to a 10-0 lead, but Carolina gave it back when Brenton Bersin couldn't handle a Butler punt to set up Arizona for a short-field touchdown.
Next up was Nortman, whose first punt midway through the second quarter that pinned Arizona at its 3-yard line made it easier for head coach Ron Rivera to decide to call on his punter midway through the third quarter. With the Panthers trailing 14-13, a long drive stalled at the Arizona 37, and another Nortman hanger cornered the Cardinals at their own 8.
The defense didn't allow Arizona a single yard, and another short Butler punt positioned the Panthers for a one-play, 39-yard touchdown drive courtesy of running back Fozzy Whittaker's catch and run. On the subsequent kickoff, the Panthers turned the tables when cornerback Melvin White forced a fumble by former Panthers wide receiver Ted Ginn Jr. Linebacker Kevin Reddick recovered it at the 4, leading to a touchdown that put the game away.
Nortman's day wasn't done. A brilliant play by fullback Mike Tolbert and safety Colin Jones downed a fourth-quarter Nortman punt at the 1, but a penalty forced him to kick it again, and this time the snap slipped through his hands. Nortman niftily (by the standards of a punter) gained 6 yards but not a first down. Then in the final seconds, he nearly burned the entire clock before stepping out of bounds to take a safety.
"I wish I could say that was planned," Nortman said, "but I think that was more panic than anything."
BROWN OUT: The Panthers played the second half without speedy wide receiver Philly Brown, who hit the ground hard trying to haul in a pass in the end zone in the closing minute of the first half and suffered a shoulder injury.
"We will see how it is," Rivera said. "There is a little bit of concern."
Brown had three catches for 37 yards before departing.
UP NEXT: The Panthers will enjoy a day off Sunday, when they'll learn who they'll play next weekend in an NFC Divisional Playoff. If Dallas beats Detroit, the Panthers will travel to Seattle for an 8:15 p.m. kickoff next Saturday. If Detroit wins, the Panthers will travel to Green Bay for a 1:05 p.m. kickoff next Sunday.