CHARLOTTE – Rookie wide receiver Kelvin Benjamin had the quietest day of his five-game NFL career Sunday, but what the Panthers accomplished in the passing game despite that spoke volumes.
Benjamin, with three receptions for 38 yards, was one of eight Panthers to catch passes from quarterback Cam Newton in Carolina's 31-24 victory.
"He spread it around to nine different receivers, and eight of them made catches. That's huge. That's important," head coach Ron Rivera said Monday. "If people want to roll to one specific receiver to take him out of the game, you've got to find the other guys. That's what our quarterback did."
While Benjamin – the NFL Offensive Rookie of the Month for September – and tight end Greg Olsen have been Newton's favorite targets, Newton has been spreading it around all season.
Newton has connected with at least seven different pass-catchers in all four of his games. Last year, seven or more players caught balls in just six games.
Olsen sparkled again Sunday with a team-leading six catches for 72 yards and two touchdowns. Tight end Ed Dickson, who started as the Panthers opened in a two tight end set, produced his first two catches with Carolina. Wide receiver Brenton Bersin made a grab for the fourth consecutive game, and running back Darrin Reaves had a career-long 16-yard reception in addition to six combined catches for wide receivers Jerricho Cothery, Jason Avant and Philly Brown.
Rivera said Newton's ability to connect with a variety of weapons will only increase as he gets healthier and his continued good health affords him more practice time with his new corps.
"As he develops a comfort zone with those guys, you'll see more and more production," Rivera said. "He didn't have any setbacks. That's important, because as he continues to heal up and get better and better, we can expand on what we do."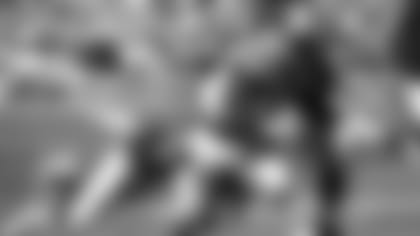 BACKFIELD SHOWS BACKBONE: Even beyond Reaves' reception and even with modest numbers overall, the undrafted rookie impressed Rivera in his first NFL start.
"We're solid with the guys we have right now. We're very comfortable," Rivera said of Reaves and newly signed Chris Ogbonnaya, who combined for 59 yards and one touchdown on 19 rushes. "They did some really good things.
"D.R. did a great job with blitz pick-up. He got bowled over one time, but that was against a defensive end that outweighed him by about 100 pounds. But he was in position and he stuck his nose in there and fought as best he could to give the quarterback a chance."
Fozzy Whittaker was active but didn't play, serving as an emergency option coming off a quad injury. While Whittaker should be 100 percent next week at Cincinnati, time will tell if running backs Jonathan Stewart and DeAngelo Williams are able to return.
"Stewart would be closer than DeAngelo," Rivera said. "DeAngelo got out of the cast yesterday and into a walking boot. He'll be working out the next couple of days. We'll see how he reacts."
Two defensive backs left the Bears game with injuries. Cornerback Josh Norman suffered a concussion and shoulder stinger in his first start since 2012, and nickel back Bene Benwikere sustained a twisted ankle. Charles Godfrey and Melvin White performed well in their stead.
TRAI BIEN: Rookie Trai Turner had gotten plenty of reps in relief of Fernando Velasco at right guard before Sunday. Turner earned his first NFL start against the Bears and never came out of the game.
"It's not that Fernando hasn't done good things," Rivera said. "We wanted to see how Trai reacted to starting, and with the flow of things, they felt we should stick with him. He did a nice job."
Rivera said the plan going forward is to go back to rotating Turner and Velasco.
LOOKING AHEAD: Many viewed the Bears game as a must-win for the Panthers (3-2) because of the schedule that follows, but that's not Rivera's way of thinking.
"I can repeat the mantra: 'This next one is the most important game we play, because it's the next one we play.' That's really how I look at it," Rivera said. "I've never broken the season into quarters for the players. I've never said, 'We've got to come out of this quarter 3-1, or, hopefully, we'll come out of this quarter 2-2.'
"What I talk to the guys about is the next game. If you get ahead of yourself, you forget about who you're playing."
For the record, the Panthers' next five games are all against teams that made the playoffs last season. Carolina enters the stretch with a one-game lead over New Orleans and Atlanta atop the NFC South. Four of the Saints' next five games are against 2013 playoff teams. While the Falcons play just one playoff team over their next five contests, they end the season with three of four games against playoff teams. After the Panthers and Saints – both playoff teams last year – square off in Week 14, neither faces a 2013 playoff team the rest of the way.