CHARLOTTE – Panthers wide receiver Steve Smith said Monday that he will play in the NFC Divisional Playoff on Sunday against the San Francisco 49ers, but what happens between now and then will determine how effective he can be.
Smith sprained the posterior cruciate ligament in his left knee early in the Panthers' playoff-clinching victory Dec. 22 versus the New Orleans Saints. Smith missed the regular season finale at Atlanta on Dec. 29, but he plans to return to practice Wednesday.
"I feel better this week than last week, and obviously I feel a lot better than the week before," Smith said. "Every day, it will get better."
Initially, Smith told the media that crowded around his locker Monday that he was 60-40 for Sunday's game - "60 to the good, 40 to the bad" – but later said the question wasn't if he would play but rather how effective he would play.
"It's not about, 'Can I go?' It's about, 'How confident do I feel when I am going?' " Smith said. "I'm going to play Sunday, but it's about how much I don't worry about the knee. That's when the confidence increases.
"I'm still doing some things every day to build that muscle memory, to know where my limit is on bending it. That only can be worked out by pushing it more and more each day."
Smith said he's been pushing it to the limit while being careful not to push it too far.
"Every day you've got to see how far you go, and then you have to be able to say, 'I'm good for today,'" he said. "Some days you've got to walk away to be able to walk away."
Smith matched a season high with six receptions for 63 yards in the Panthers' 10-9 victory at San Francisco in Week 10, highlighted by a clutch catch that put Carolina in field-goal range for Graham Gano to boot a 53-yarder that proved to be a game-winner.
As for what Smith might do for an encore in the rematch?
"Steve will find a way to be effective and make things happen," head coach Ron Rivera said. "I love Steve's enthusiasm and who he is. You can't duplicate that. Steve is a special guy."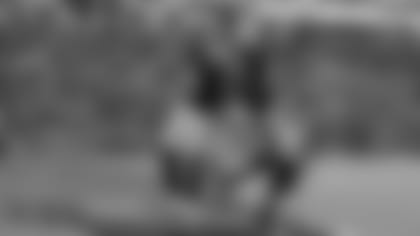 RECEPTIVE TO RETURN: Wide receiver Brandon LaFell was averaging approximately four catches for 44 yards per game before Smith was injured, but since Smith's injury in the first quarter against the Saints, LaFell has just one catch for 13 yards.
"I don't think I've been putting more pressure on myself; I just think I've been getting the coverage Smitty was getting when he was out," LaFell said. "I respect him for what he does because in the two games I've been treated the way they treat him. They are bracketing and double-teaming, and it's hard over there."
It's safe to say LaFell, who had 49 catches for 627 yards and five touchdowns during the regular season, will be as happy as anyone to see Smith back in action.
"We are going to get him back this week, and I'll get back to my regular spot," LaFell said. "Hopefully, I can make some more plays."
CAUGHT UP IN THE REMATCH: Wide receiver Ted Ginn was almost as quiet in the regular season finale, catching two passes for 6 yards. You can bet he'll be trying to make more noise against his former team, a 49ers team for which he caught two passes for 1 yard in 2012.
"There is something there, but it's nothing I'm going to harp on," said Ginn, who recorded 36 receptions for 556 yards and five touchdowns this season. "It is a fuel, but everybody has to gas their car up some kind of way. That's the way I kind of gas mine up.
"It's nothing personal, nothing against anybody. It's just how I feel."
Ginn said he still has friends on the 49ers roster and pulls for them to do well, though he did acknowledge that it's "ironic that I get to play the San Francisco 49ers twice in one year."
Ginn didn't have a big impact as a wide receiver in the Week 10 meeting but did rack up 102 return yards, highlighted by a 25-yard punt return that set up the offense for the game-winning field goal.
Among NFL players to record 10 or more punt returns in the regular season, Ginn ranked ninth with a 12.2-yard average. He was one of just two to finish in the top 10 without the benefit of a touchdown.
"We've been close all year," Ginn said. "We're just taking that into the next game, with the playoff thing on top of it."