CHARLOTTE – The two-minute drill tends to raise the intensity level at practice, and that was certainly the case during Thursday's organized team activity (OTA).
"We've learned how to push each other," fullback Mike Tolbert said. "We know what buttons to push."
Spirited competition developed between the offense and defense and both sides made a handful of big plays.
"I'm excited about their effort," head coach Ron Rivera said. "The guys were really having a good time competing against each other and challenging each other. It was a lot of fun to watch."
Below are some highlights:
Quarterback Cam Newton and the first-team offense were feeling good after having success during the two-minute drill. But defensive end Charles Johnson made the play of the day to give his defensive teammates something to brag about.
Newton attempted to dump off a screen pass to Tolbert, but he didn't see that Johnson was ready and waiting. Johnson snared the ball out of the air with one hand and promptly tossed it back to Newton. Needless to say, the defense loved it.
"CJ caught that one-handed pick on Cam and threw it back at him," cornerback Josh Norman said. "A little bit of his own medicine."
Newton and rookie wide receiver Devin Funchess are building a rapport and the pair connected quite a bit on Thursday.
Newton fired several intermediate passes to Funchess, and the timing was spot on. He also located the rookie for a short touchdown pass after he created some space in the end zone against veteran cornerback Charles Tillman.
Funchess is still acclimating himself, but he's taking advantage of expanded opportunities with Kelvin Benjamin sidelined with a hamstring injury and he looks very comfortable catching Newton's high-velocity throws.
"When I was training (before the draft) I cut the JUGS all the way up because it is a different game and the quarterback is going to get in on you faster," Funchess said. "(With Cam) it comes in hot."
The best catch of the day came from a somewhat surprising source – tight end Ed Dickson. Dickson leaped high above two defenders and came down with a pass from quarterback Derek Anderson. Newton jumped just as high in celebration after Dickson secured the catch.
Carolina's No. 2 tight end recorded just 10 receptions last year, but he had a couple big ones down the stretch. Perhaps his highlight-reel grab Thursday is a sign of more to come.
---
WELCOMING WARD: Fullback Lee Ward took part in his first OTA earlier this week after graduating – he thinks – from Stanford last week.
"I got back on Sunday after having my last final on Friday," Ward said. "I'm still waiting on the grade, but I would assume that yes, I have graduated."
Ward, an undrafted rookie, earned his degree in science, technology and society.
"It's a combination of product design and business management," said Ward, who has developed a few ideas for inventions. "I feel like I've had some pretty good ideas in the past that if implemented could do pretty well, but I don't want to share them because you might steal them.
"But that's all for after football is over."
Ward hopes that isn't anytime soon. The 5-11, 250-pounder excelled as a blocking back for Stanford's potent running game.
Linebacker Shaq Thompson, the Panthers' 2015 first-round draft choice, is still finishing the school year at the University of Washington but is expected back for Carolina's minicamp June 16-18.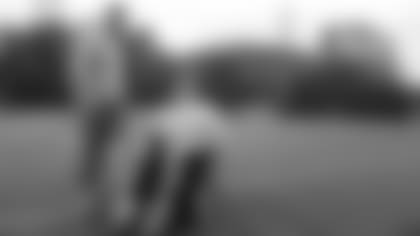 SPECIAL GUESTS: One minute, Douglas Myers and his 18-year-old son, Seth, were looking for a parking spot close to the Panthers' practice fields in hopes of catching a glance of their favorite team.
The next thing they knew, they were watching practice from the field.
Douglas had brought his son from their Cheraw, S.C., home about 75 miles to the Muscular Dystrophy Association clinic in Charlotte when they decided stop by practice. Rivera noticed them and invited them to come inside the gates. After practice, Rivera spoke to them again and posed for a picture.
---
Senior writer Bryan Strickland contributed to this report.