CHARLOTTE – The last time the Panthers hosted a Monday Night Football game, running backs DeAngelo Williams and Jonathan Stewart combined for 301 yards and four touchdowns in a victory over the Tampa Bay Buccaneers.
"It definitely brings back memories," Stewart said, "but you've got to keep things in perspective. That was five years ago. This is another year. It's all about the preparation."
The Panthers undoubtedly are preparing to run the ball when the New England Patriots come to town with the NFL's 30th-ranked rush defense. While Williams ranks 10th in the NFL with 565 yards, Stewart is rounding into form after missing the first seven games of the season with an ankle injury.
Stewart has 22 rushes for 84 yards in his first two games, while Williams has 21 carries for 88 yards.
The balance is back, and so is Stewart.
"I'm feeling good," Stewart said. "After the first week back, the muscle memory came back pretty quick. It's something I've been doing my whole life, so it didn't take long to come back.
"And a game like last week – a hard-fought game where you definitely had to bring you're 'A' game for four quarters – really helps."
MORE REINFORCEMENT: The Panthers have also welcomed back a key cog on defense in recent weeks. Defensive tackle Dwan Edwards, who missed five games with a hamstring injury, has been back in action for the last two. He recorded three tackles in each game, including two sacks against San Francisco.
"It was definitely by far the best I've felt," Edwards said. "Going into the Atlanta game (the week before), I didn't know how it was going to feel. But I got through that, and coming out of it healthy gave me a ton of confidence. And the way our guys are playing allows me to play with even more confidence."
Rookie Star Lotulelei and veteran Colin Cole have maintained their starting roles even with the return of Edwards, who has teamed with the starting duo and rookie Kawann Short to form a formidable foursome.
"We have the most depth we've had around here in a long time where we can rotate guys in and keep guys fresh," Edwards said. "That's huge. Guys are fresh and hungry, and that's scary."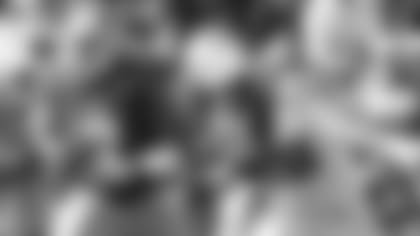 STAR POWER: Head coach Ron Rivera credited the pressure exerted by the defensive line as the single-most important element in the performance against the 49ers. With the likes of Lotulelei and Short – the Panthers' top two draft picks in 2013 - still developing, the pressure might not have reached its peak.
"I'm learning every day and working to get better for every game. I definitely don't feel like I've arrived," Lotulelei said. "There's definitely still a lot of work to do. I'm excited about where I can go with this kind of scheme and the techniques we use. I'm excited about the future."
As for the here and now, Lotulelei understands the challenge his unit will face with future Hall of Fame quarterback Tom Brady up next.
"Tom Brady is so poised. He can kill you if you let him stay on his spots," Lotulelei said. "Any kind of penetration, collapse or pressure we can get is to our benefit."
INJURY UPDATE: Edwards (hamstring) was limited in practice Thursday, but Rivera said he "took the reps he was supposed to."
Linebacker Chase Blackburn (foot), tight end Ben Hartsock (knee) and guard Chris Scott (knee) did not practice. Left tackle Jordan Gross was granted a veterans' day off, and fullback Mike Tolbert was excused because his wife gave birth to a boy Thursday morning.
BEYOND FOOTBALL: Rivera opened his press conference Thursday by calling attention to the tragedy in the Philippines, where a typhoon has claimed more than 2,300 lives.
Rivera and his wife, Stephanie, both have relatives in the Philippines who survived. They're encouraging Panthers fans to donate to the Red Cross' relief efforts by texting the word "TYPHOON" to 90999 to make a $10 donation or by visiting www.redcross.org/nfl.