CHARLOTTE – Running back Jonathan Stewart made his long awaited return to the practice field on Tuesday – his first action since injuring his ankle in Week 12 last season.
"I learned and endured during the time off rehabbing," said Stewart, who underwent offseason ankle surgery. "I'm just thankful to be at practice today.
"It feels good being out there warming up, taking handoffs and just playing football again. The guys were encouraging me saying, 'Hey you're looking good.' I got through this with the help of my teammates."
And his teammates were thrilled to see No. 28 back in action.
"It's a big boost. Today he got a standing ovation to show how much he's been missed – that's kind of the sarcasm we have on this team," quarterback Cam Newton said with a smile. "When he comes into the huddle, he has that game face on. He comes in hungry and wants to prove his worth to this team."
Stewart said he will most likely make his 2013 debut next week against the Atlanta Falcons, and head coach Ron Rivera confirmed that plan.
"We are (looking at Atlanta)," Rivera said. "We just have to make sure. The big thing is to see how he reacts tomorrow after what he did today."
"It was good to see him out there. He looked really good. We're excited."
LUKE LOOKS BACK: While Stewart prepares for his 2013 debut, linebacker Luke Kuechly recounted his NFL debut, which took place in Tampa last year.
At the time, Kuechly was playing weakside linebacker and felt he was ready for the speed of NFL regular season football.
"I thought I was going to be ready to go with all the preseason games and stuff, but it was another level," Kuechly remembered.
"We watched some of that tape today, and I was like, 'Oh man.' Everything was happening so fast. I was messing up."
A lot has changed since then. Kuechly, of course, moved to middle linebacker in Week 5 and flourished en route to winning NFL Defensive Rookie of the Year and leading the league in tackles.
"You get more confident as you go," Kuechly said, "and once I moved to the middle, it just kind of clicked and everything became a little easier."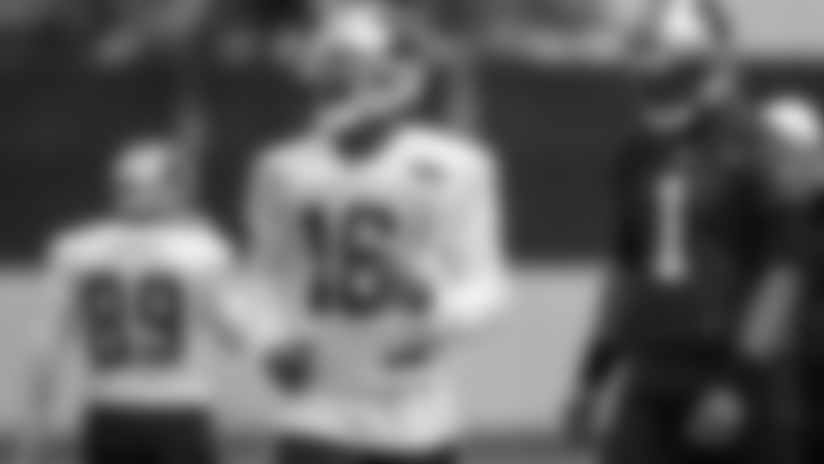 KING ARRIVES: The Panthers and wide receivers coach Ricky Proehl had their eye on Tavarres King before the 2013 NFL Draft.
The Denver Broncos selected the former Georgia wide receiver in the fifth round but waived him Saturday. The Panthers pounced, claiming him off waivers.
"Tavarres is somebody that we looked at, and coach Proehl knows him very well," Rivera said. "When that name came across (the waiver wire), I know (general manager) Dave (Gettleman) and his staff discussed it. We looked at the tape, and the decision was made.
"He's an explosive receiver who comes from a good program. He came in today and showed his quickness and explosiveness and ability to snatch the ball. We're excited about having him here. Hopefully, he can (learn our offense) quickly so we can throw him out there and see what he can do as the season progresses."
King knew the Panthers were interested in him before the draft, and he's glad he ultimately ended up in Carolina.
"It's been pretty hectic for me," King said. "I met with Coach Proehl before the draft. I loved him and thought I was going to land here. God works in mysterious ways, and I ended up here. I'm pretty excited about that."
INJURY UPDATE: Defensive tackle Dwan Edwards (hamstring), cornerback Josh Thomas (illness) and safety Colin Jones (personal) were the only Panthers to miss practice on Wednesday.
Thomas is battling the flu, much like Rivera was over the weekend. If Thomas isn't able to play Thursday, the Panthers have several options.
"We are going to look at Melvin (White), we'll look at (Josh) Norman and Drayton (Florence)," Rivera said. "We have six good corners. The key is making sure we put out the right combination."
When asked if Norman, who has been inactive the last three games, might be active this week Rivera said, "There is a chance, most certainly."