CHARLOTTE – The Panthers went through their paces Wednesday in a ballroom at the Charlotte Convention Center, but the players didn't miss a beat.
"I don't have a lot of ballroom experience. Maybe I need a date," safety Mike Mitchell said. "It was a little interesting being in a confined area like that – in a ballroom on carpet – but we got in great mental work. Everyone was locked in and 100 percent focused."
Soggy conditions on the practice fields forced the Panthers inside.
"It was sloppy out there," head coach Ron Rivera said. "There was a lot of water from 24 hours of rain. It wouldn't have made sense to try to practice on that."
Rivera isn't concerned about how that or the Thanksgiving will impact his team's preparations for Sunday's visit by the rapidly improving Tampa Bay Buccaneers. The Panthers will practice early Thursday and then have an extended practice Friday.
Rivera also wasn't concerned that the Panthers' top three running backs all sat out practice Wednesday. He described DeAngelo Williams (quad) and Mike Tolbert (knee) as having "contusions," and it's not uncommon for Jonathan Stewart (ankle) to take a day for rest.
Rivera was marginally concerned that defensive end Charles Johnson (knee) and guard Chris Scott (knee) didn't practice. While Scott has missed three consecutive games, Rivera had hoped Johnson might be able to go Wednesday after missing last week's game.
"Going inside, there was no reason to put him on that carpet," Rivera said. "We wanted to be smart."
THE SPOILS: Rivera has the Panthers in position to set a franchise record Sunday with their eighth consecutive win, a remarkable streak following a 1-3 start that has some calling for him to be considered for coach of the year.
"The thing I would love for us is to be team of the year," Rivera said, "and you can only do that by winning."
Rivera said the painful loss at Buffalo in Week 2 changed his approach when it comes to doing things by the book. But while he's been more aggressive since then, nothing away from the field has changed.
"He's been our leader ever since I've been here, and he's always done a great job," quarterback Cam Newton said. "He's played in the league and obviously knows what the players need to hear, what the players need to see and the trust that we as players have to have in our coach. He's always been the person to bite the bullet, has always been the type to say, 'Hey, blame me. I'm the head coach.'
"Now he's flourishing this year."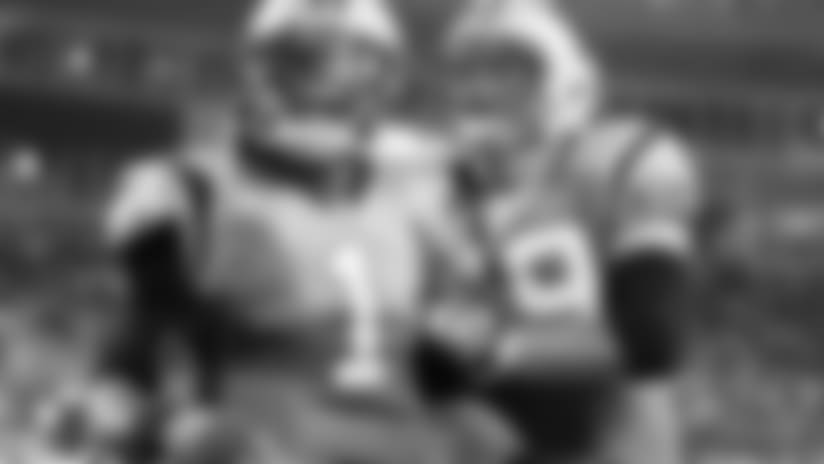 IN GOOD HANDS: Newton took a hard shot on the Panthers' first offensive snap of Sunday's victory at Miami, and offensive tackle Jordan Gross took it at least as hard, beating himself up for letting defensive end Cameron Wake get to Newton.
"Him saying that it irks him that a guy got the best of him on one play, those types of players make a big difference," Newton said. "Jordan doesn't get a lot of credit. He has protected my backside ever since I've been here and has done it for previous quarterbacks, and he is yet to complain.
"I have a lot of trust in that guy. He's an All-Pro player, playing at a high level. So what if he's been in the league for so long? He still has something to prove, and he keeps proving to himself that he can play at a high level."
IRON BOWL: While at Auburn, Newton got the best of rival Alabama, rallying the Tigers from a 24-0 deficit for a 28-27 triumph that propelled them to the national championship at the end of the 2011 season.
Rookie safety Robert Lester was on the short end of the stick that day but didn't come away empty-handed.
"I've actually got a picture of me tackling Cam all by myself," said Lester, who won national titles at Alabama in 2009, 2010 and 2012. "When he was in college, it was unheard of for a safety to tackle him by himself."
The rivalry will be renewed Saturday when the top-ranked Crimson Tide face No. 4 Auburn.
"It's going to be a great game, and the best team will win," Newton said. "And don't be surprised. It's not a fluke."