CHARLOTTE – At times during his career, Wes Horton has had a difficult time staying on the roster.
Over the last 12 months, however, opposing quarterbacks have had a difficult time with Horton.
Since Week 15 of the 2016 season, Horton has recorded five strip-sacks, the latest one coming early in the Panthers' playoff-clinching victory over the Buccaneers last Sunday. Horton's total is tied with Jaguars defensive end Yannick Ngakoue for the most strip-sacks in the NFL over that stretch.
"When you get to the quarterback, you don't freak out and just say, 'I just want to get the sack,'" Horton explained. "You want to do more because quarterbacks are usually looking down the field, and that ball, you can easily get it out."
Horton, who made the Panthers roster as an undrafted rookie in 2013, has been waived three times by Carolina and hasn't played for another NFL team. He wasn't on the roster the first five games of the 2016 season but got another chance and saw his playing time increase as the season wore on. He recorded two strip-sacks over the final three games and has recorded three more so far this season.
"The more reps you get, the more comfortable you feel on the field," Horton said. "It's about earning the trust from your position coach to earn those reps and stay in the rotation."
Trio returns to practice: The defensive end rotation this week in Atlanta could again include veteran Charles Johnson, who is set to return from a four-game suspension for violating the NFL policy on performance-enhancing substances.
"You can tell he has a little bit of a chip on his shoulder. He wants to get back in this rotation and play at a high level," Horton said. "I know he's been working really hard down in Miami. He's ready, and he's a veteran guy who brings a lot of experience and a guy we've leaned on for a lot of years. It's great to have him back."
Johnson was joined on the practice field Wednesday by linebacker Thomas Davis, who is returning from a one-game suspension for a helmet-to-helmet hit. Johnson and Davis are both Georgia natives.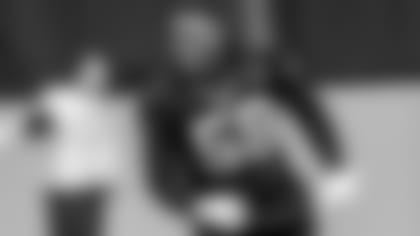 "It really is great having Thomas and Charles out there," head coach Ron Rivera said. "This is always a big game for them, both of them being from Georgia near Atlanta. They want to go out there and play – and play well."
Rivera also was pleased to see right guard Trai Turner listed as a limited participant in practice after missing two games in the concussion protocol.
"It's a good sign. It's part of a step, and hopefully tomorrow he'll make another step," Rivera said. "In the meantime, Amini (Silatolu) and those guys will continue to work at guard for us. Amini played very well last week and the week before, so we feel good either way."
Byrd is the word: When Horton rejoined the roster last October, he did so at the expense of wide receiver Damiere Byrd, who was waived on the same day. Tuesday brought another roster move involving Byrd, who was placed on injured reserve with a leg injury.
One day later, when Byrd was named NFC Special Teams Player of the Week, fellow wideout Russell Shepard wore Byrd's No. 18 jersey on the practice field.
"Those are the type of guys you root for," Shepard said. "We want to support our brother and let him know that even though he's physically not able to out there, we're going to support him and carry a bit of him out there with us every day.
"I've got much respect for guys who do it the hard way, who didn't have things handed to him."
Byrd made the practice squad as an undrafted rookie in 2015 and made his first NFL catch in the 2016 season finale. After spending seven games on injured reserve this year with a broken arm, Byrd recorded his first two receiving touchdowns in Week 15 and then set a franchise record with a 103-yard kickoff return this past week.
Now the receiving corps, which said goodbye to towering target Kelvin Benjamin via a trade earlier this season and has now lost a pair of speedsters in Byrd and Curtis Samuel to injures, must prove itself anew.
"We've got a bunch of young guys – myself included – that want to prove we belong in this league, that we play a big part in this offense's success," Shepard said. "We want to show what we can do."
View photos from the week of practice leading up to the Panthers' game against the Falcons.