CHARLOTTE - Through two weeks, Carlos Hyde and LeSean McCoy rank among the top 13 backs in the NFL in rushing yards.
Just imagine if they hadn't faced the Panthers.
Carolina held Hyde to 45 yards in a season-opening victory over the 49ers, but he bounced back to the tune of 124 yards Sunday against the Seahawks. McCoy opened the season with 110 yards against the Jets but mustered just nine yards in Sunday's loss to the Panthers.
"One of the top running backs in the National Football League had nine yards rushing," defensive coordinator Steve Wilks said. "We came into the game with an emphasis on stopping the run. Look what they did last week – 200 yards rushing – but I thought our guys did a tremendous job up front getting penetration and holding those guys to 69 yards rushing."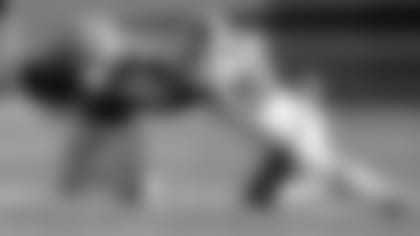 Wilks coached the Panthers' secondary before replacing new Bills head coach Sean McDermott, but his primary focus as defensive coordinator starts up front (though it certainly includes the back end). McCoy was an understandable point of emphasis for Carolina's defense, but run defense also will be a key area in Wilks' mind when Drew Brees and the pass-first Saints visit Bank of America Stadium.
"This is a pass-happy football league, but the one thing you can't do is make offenses two-dimensional," Wilks said. "Our objective each and every week is to stop the run."
It's hard to argue with the results so far. The Panthers are the first team since the 1981 Bills to allow three or fewer points in their first two games and the first to not allow a touchdown through its first two games since the 2010 Baltimore Ravens.
Carolina barely allowed the Bills or the 49ers to even sniff the end zone. The lone red zone possession for an opponent so far came courtesy of a Christian McCaffrey fumble in Week 1 that set the 49ers up 11 yards shy of the red zone. The next-lowest number of red zone trips allowed is shared by the Buccaneers and the Dolphins at three. Because of Hurricane Irma, those two teams have each played just one game.
"This is a week-to-week league. We can't get too excited about where we are," Wilks said. "This defense is still under construction. I like the guys who are working on it – the players and coaches – but as watching the game this morning as a staff, there were a lot of plays we left on the field, a lot of things we need to correct.
"Everybody talks about, 'What have you done for me lately?' We all know in this league it's, 'What have you done for me now?' Now it's the New Orleans Saints."
View the top photos from Panthers vs Bills by team photographer Melissa Melvin-Rodriguez and second shooter Jamey Price.