Impress your friends with obscure nuggets mined for this game-by-game rundown.
Week 1 at 49ers (Sunday, September 10)
20 - Games against the 49ers before the Panthers had a 100-yard rusher. Fozzy Whittaker rushed for exactly 100 yards in Carolina's Week 2 win last season.
Week 2 vs. Bills (Sunday, September 17)
84 - Jersey number of tight end Michael Gaines, who in 2005 caught the game-winning touchdown in the Panthers' only win in six games against the Bills.
Week 3 vs. Saints (Sunday, September 24)
24 - All-time wins for the Panthers over the Saints, Carolina's most victories against any opponent.
Week 4 at Patriots (Sunday, October 1)
119 - Rushing yards for running back Derrick Moore in the Panthers' 1995 win at New England, Carolina's only victory in three trips to Foxboro and the first road win in franchise history.
Week 5 at Detroit (Sunday, October 8)
101 - Yards covered by Kealoha Pilares while returning a kickoff for a touchdown during the Panthers' 2011 loss in Detroit, the last time Carolina returned a kick for a score.
Week 6 vs. Eagles (Thursday, October 12)
1 - Career interceptions for safety Colin Jones, who picked off Eagles quarterback Sam Bradford in a Panthers' 2015 primetime win.
Week 7 at Bears (Sunday, October 22)
36 - Yards for Darrin Reaves, who led the Panthers in rushing during a 2014 win over the Bears.
Week 8 at Buccaneers (Sunday, October 29)
8 - Consecutive years the season series has featured a sweep. Carolina had beaten Tampa Bay six straight times before the Buccaneers swept the series last season.
Week 9 vs. Falcons (Sunday, November 5)
2 - Starts made in 2007 by Panthers safety Marquand Manuel, who became Atlanta's defensive coordinator this offseason.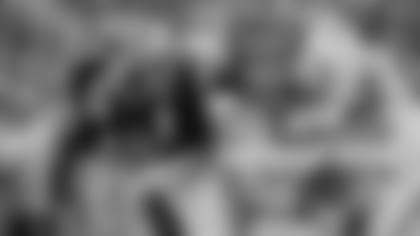 Week 10 vs. Dolphins (Monday, November 13)
76 - Points scored by the Panthers in five all-time meetings against the Dolphins, Carolina's lowest total against any opponent.
Week 12 at Jets (Sunday, November 26)
3 - Consecutive wins for the Panthers coming out of bye weeks after coach Ron Rivera began his career in Carolina with five losses in such games.
Week 13 at Saints (Sunday, December 3)
8.25 - Average receptions for tight end Greg Olsen in his past four games at New Orleans. Olsen has totaled 33 catches for 335 yards in those four Superdome visits.
Week 14 vs. Vikings (Sunday, December 10)
5 - Franchise-record interceptions returned for touchdowns by Captain Munnerlyn during his first five years with the Panthers. He had no such returns in his past three seasons with the Vikings.
Week 15 vs. Packers (Sunday, December 17)
432 - Career-high passing yards for quarterback Cam Newton during a 2011 loss to the Packers in Newton's first career home game.
Week 16 vs. Bucs (Sunday, December 24)
6 - Games the Panthers have played on Christmas Eve. Carolina is 2-4 all-time on Dec. 24, but one of those wins was against Tampa Bay in 2011.
Week 17 at Falcons (Sunday, December 31)
3 - Panthers' Week 17 wins, out of four games, at the now-defunct Georgia Dome.
View photos of teams the Panthers will face during the 2017 regular season, presented by PrimeSport.