SAN JOSE, Calif. – As the old saying goes, "it all starts up front."
But that's not just a throwaway cliché to members of the Panthers offensive line.
"It does start with us up front, and we take tremendous pride in doing our job, and doing it the right way," left guard Andrew Norwell said. "The team goes where the O-line goes."
This O-line – pieced together via the draft, free agency and even practice squad scouting – has taken Carolina and its powerful, diverse offense to new heights this season.
"We all have different backgrounds and we all have different perspectives, but we come together and work so well as a group," right tackle Mike Remmers said. "It's awesome."
Consider the wide range of paths these five linemen took before arriving in Carolina.
Center Ryan Kalil, the Panthers' second-round pick from Southern California in 2007, is the All-Pro leader of the group.
Left tackle Michael Oher, a former Ravens first-round pick, was released by the Titans prior to signing a free agent deal with Carolina this offseason.
Right guard Trai Turner, still just 22 years old, entered the 2014 draft as a redshirt sophomore from LSU and was a third-round draft choice.
Norwell, a four-year contributor at Ohio State, went undrafted in 2014 and was signed as a rookie free agent.
Remmers was plucked off the Vikings' practice squad late in the 2014 season.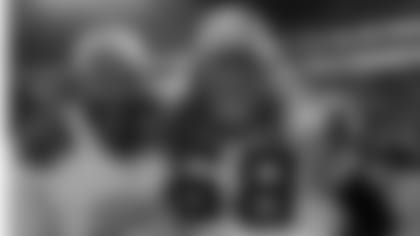 "It makes us who we are, and I think it gives us our edge," Turner said. "Five different people came here from five different places and had one mindset."
Chemistry and trust separates good offensive lines from great ones. This group protecting quarterback Cam Newton has plenty of both.
"Everybody is physical, everybody can block – that's why we're here," Turner said. "But that bond, I think it's led to a majority of our success. You genuinely know the person you are playing next to. I know why he's here, why he's doing this; I know his strengths and weaknesses and he knows mine."
Norwell echoed that sentiment.
"When I look to my right and left, those guys are my best friends," he explained. "They are my brothers. With that culture, you build an O-line room. That's key to the success. You never want to let those guys down, and that plays a big part in it."
On Super Bowl Sunday, the Panthers offensive line will face arguably its biggest challenge of the season against the Broncos' disruptive defensive front.
The Carolina linemen know team success rests largely on their broad shoulders, and they wouldn't want it any other way.
"It's a credit to the work that all of us collectively have put in to get this unit to be a strong focal point of the team," Turner said. "We just want to be the rock for the offense.
"It's definitely going to be a battle, and we're ready for it."
View photos from the Panthers practice at San Jose State.