The Panthers wrapped up their rookie minicamp in nearly 90-degree heat Saturday afternoon, but no one allowed the unseasonable temperatures to slow them down. The pace was crisp and level of execution impressive for a group of rookies and tryouts that laid eyes on each other and the Panthers playbook for the first time just 48 hours ago.
While the camp provided a first glimpse at the team's draft picks and undrafted rookies, those guys already have a spot on the 90-man roster. The 28 tryouts were the ones aiming to beat the odds and stick around. There are currently three empty spots that Carolina likely will fill with the addition of some tryout guys, though head coach Ron Rivera listed three times that many guys when asked for standouts: Wide receivers Da'Ron Brown and Bug Howard, running back Kalif Phillips, offensive linemen Quinterrius Eatmon and Kyle Friend, defensive linemen Ashaad Mabry and Karter Schult and cornerbacks Brad Watson and James Caine.
Brown, a seventh-round draft choice of the Chiefs in 2015 who has bounced around five different teams, made as many plays Saturday as anyone not named DJ Moore. The first-round receiver was active for the second consecutive day. After the secondary stood up nicely against him on a couple of plays early in team period, Moore started working the sideline, cutting across the middle to make several nice snags that highlighted his body control. On another play it was pure speed, as Moore effortlessly got around the corner on a reverse that drew a wide smile from Rivera.
Watson had a beautiful breakup on the first attempt to Moore, cutting just in time to knock the pass away. The effort fired up assistant defensive backs coach Jeff Imamura, who at the end of a joyful rant exulted, "That's an NFL football play there!"
The defense scored soon after on a pass and a pick by tryout guys. A Marcus McDade pass intended for Brown over the middle was tipped before being secured by safety Malik Smith, who took off around the left side. Later in the practice, seventh-round defensive tackle Kendrick Norris got in the act by getting to the ground to recover a bad handoff.
Those plays had to thrill new defensive coordinator Eric Washington, who kicked off position drills at the beginning of practice by quickly shuttling defenders through a circuit that focused on securing interceptions, securing fumbles and forcing fumbles. Washington worked his way around the three groups shouting, "Who's thinking about scoring?"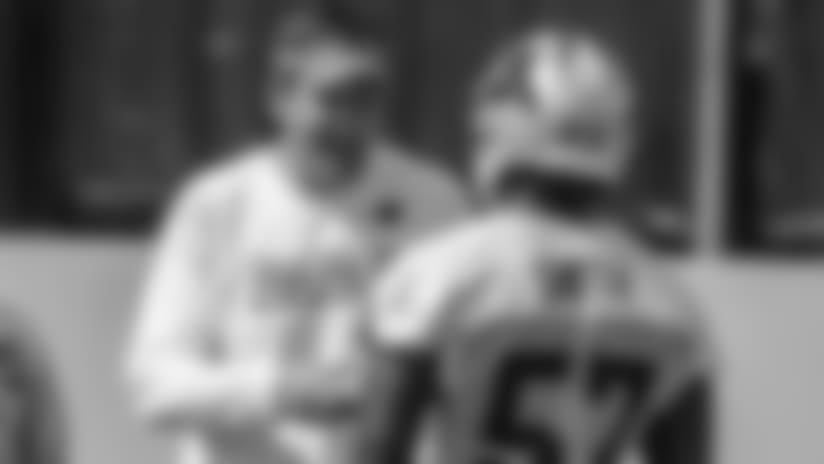 Later in individual work, new linebackers coach Steve Russ asked seventh-round linebacker Andre Smith to lead off a drill that started with two thuds against the sled. Russ wasn't satisfied with Smith's pace so he made himself the pacesetter, doing the drill himself (and not holding back against the sled). "He's the real deal," Washington said of Russ, the man charged with leading Luke Kuechly and Co. "The real deal, in every way."
After enduring a couple of turnovers Friday, recently claimed running back Elijah Hood bounced back Saturday with a couple of subtly aware plays. Hood located a ball tipped up in the air by a defensive lineman and brought it down for an unlikely completion, and he held on for dear life when third-round safety Rashaan Gaulden made solid contact with the football attempting to force Hood into another turnover.
With minicamp over, the rookies will be able to join the veterans for the continuation of the offseason workout program. The Panthers will wrap up Phase Two next week, then ramp it up another notch with organized team activities (aka OTAs) the next week.
View photos from Saturday's practice at Bank of America Stadium.