CHARLOTTE – They won't all be masterpieces. At times, you have to win ugly. 
That's a fact of life in the NFL, and it's a situation that presented itself last Sunday for the Panthers.
A strong defensive effort allowed Carolina to remain within striking distance against the Seattle Seahawks. Offensively, the Panthers continuously sputtered. They were held to 190 total yards and converted just two third downs. The only Carolina touchdown came by way of an interception return.
"The key is that when you are not having one of those good days," offensive coordinator Rob Chudzinski said, "you find a way to win."
Instead, trailing 16-10 in the final minutes, the Panthers misfired on fourth-and-goal from the 1-yard line.
"Of all the things that didn't go well for us in that game, the guys did a nice job of putting us in position where we could win it at the end," Chudzinski said. "We just need to come through in those situations and finish it off."
Quarterback Cam Newton faked a handoff and rolled right but his primary receiving option – tight end Greg Olsen – was bracketed by Seahawks. Newton then tried to connect with tight end Ben Hartsock, but the pass fell incomplete. 
"They actually misaligned on it which made it tougher for us," Chudzinski said.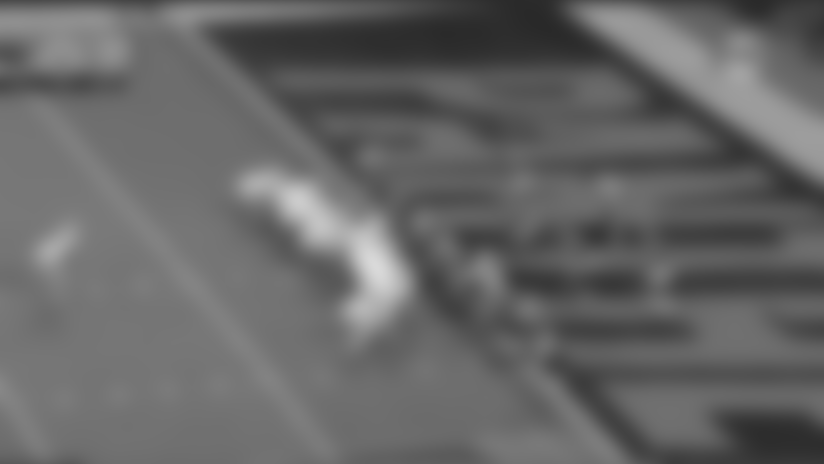 Seattle defensive end Chris Clemons lined up on the wrong side. Instead of lining up across from Panthers left tackle Jordan Gross, Clemons became an extra lineman across the right side of the Panthers line – which was manned by Byron Bell, Hartsock and Olsen.
Offensive tackle Bruce Campbell, who reported eligible on the play but served as an additional blocker, lined up in between Gross and tight end Richie Brockel on the left side.
At the snap, there was not a single down lineman across from Gross and Campbell. But on the other side, Bell and Hartsock faced three Seattle linemen (Alan Branch, Jason Jones and Clemons).
"Their defensive end (Clemons) was all the way over on the right side (of the formation)," Chudzinski explained. "And the safety (Earl Thomas) moved over after OIsen shifted, so they were heavy loaded on one side."
The play design led Newton and Olsen to roll right -- directly into a mistakenly overloaded defense.
---
Seattle loaded the box to limit the Carolina run game, and as a result, running backs DeAngelo Williams and Jonathan Stewart combined for just 22 yards on 10 carries.
"They are a physical group, great athletes and they load up the box on you," Chudzinski said. "Those things all combined. It makes it tough and that's why they are one of the best teams in the league against the run."
The Seahawks regularly brought additional bodies toward the line of scrimmage, and their physical defensive backs held up the back end, denying big plays through the air. 
"Give Seattle a lot of credit, they have some really good players up front and they challenge you down the field with their secondary," Chudzinski said.
---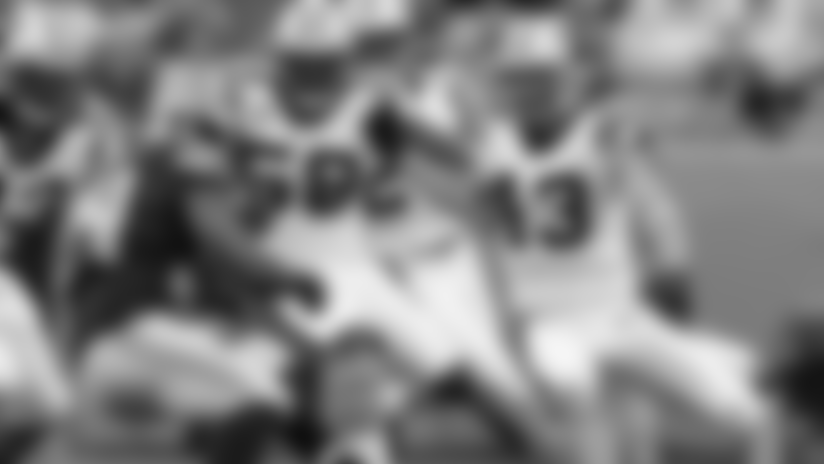 Defensive coordinator Sean McDermott is confident his defense is heading in the right direction after Sunday's performance.
"What we're focused on right now is continuing to take things to another level, to create a culture of winning defensively and bring back the tradition of playing great defense," McDermott said.
Seattle running back Marshawn Lynch – who entered Week 5 as the NFL's leading rusher – ran for just 85 yards on 21 carries, largely due to Carolina's improved tackling.
"We've got to continue to stress that, coach it, emphasize it, drill it and (the tackling) has got to continue to improve," McDermott said.
McDermott was pleased with the play of the secondary, particularly cornerbacks Captain Munnerlyn and Josh Thomas, who stepped into larger roles with Chris Gamble inactive.
Haruki Nakamura and Sherrod Martin split time at free safety, and McDermott said their playing time moving forward will be determined week to week. 
"They kept things in front of them," McDermott said. "It will be a weekly evaluation in terms of what the opponent brings to the table, who we want on the field, but both of those young men did a nice job."
---
The Panthers' special teams units made several key contributions versus Seattle.
Justin Medlock converted his second field goal attempt of the season, a 32-yarder in the closing seconds of the first half.
Punter Brad Nortman had a career-high seven punts and averaged 45.4 yards per punt with a 39.9 net punting average. Nortman's 63-yard effort in the first quarter was a career long.
The kick coverage team created its first turnover of the season on the second-half kickoff. Linebacker Jason Phillips forced Seattle returner Leon Washington to fumble, and Josh Thomas recovered at the Seahawks' 37-yard line.