CHARLOTTE – Head coach Ron Rivera trusted coordinator Mike Shula and the offense to call two fourth-and-one plays on the Panthers' first possession against Minnesota, and that faith was rewarded.
"Our guys have a really good mentality, and that's what you want," Shula said. "You want them to have belief and confidence and a little swagger that it doesn't matter how long it is, they are going to pick it up."
Carolina converted both fourth downs and never looked back, taking a 7-0 lead courtesy of wide receiver Steve Smith's 2-yard touchdown catch on fourth down.
Cam Newton produced the best passer rating of his career (143.3) on 20-of-26 passing, and Shula was proud of the way his quarterback took advantage of checkdown opportunities against a Vikings defense that was guarding against the big play.
"I think we averaged eight or nine yards on just throwing it to the backs underneath against some of that soft zone," Shula said. "It's inviting to want to throw the ball down the field when you have guys like Greg Olsen, Steve Smith and Ted Ginn stretching the field, but you can't do it at the expense of a high percentage throw."
The Panthers ultimately created that big play when Newton connected with wide receiver Brandon LaFell for a 79-yard touchdown at the start of the third quarter.
The success of that explosive play and the success of the offense in general hinged on the offensive line's ability to keep Minnesota's disruptive front away from Newton, and the Vikings finished with just one sack.
Left tackle Jordan Gross was primarily responsible for containing All-Pro defensive end Jared Allen, who mustered just three tackles and no sacks, and Shula complimented the work of Carolina's 11-year veteran.
"Jordan is having a really good year," Shula said. "We tried to mix our protections -- just like a lot of other teams have -- because they are really good up front, especially at home. Obviously, it starts with Jordan, because he is the guy that's got to compete with (Allen) every play.
"But it was a total offensive effort, with guys helping out with a chip, sometimes we lined up Greg Olsen to help him out, just to try to change things up."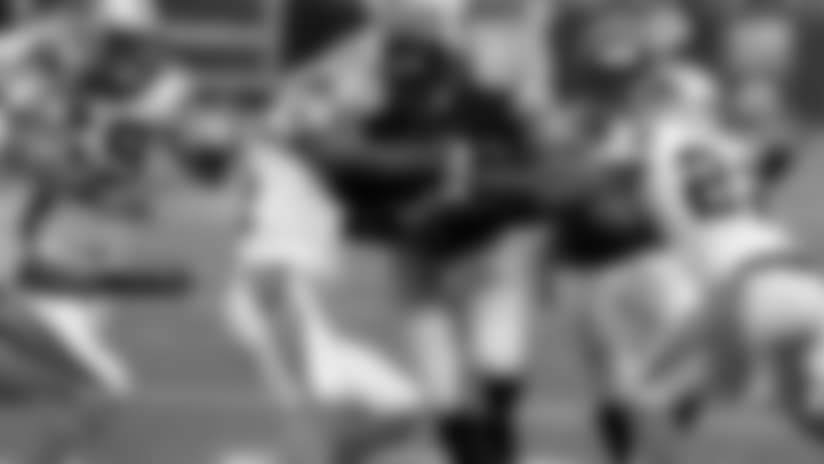 DEFENSE ROLLING: Another week, another impressive outing for the Carolina defense in a 35-10 victory.
"What you are seeing with our defense is a different guy steps up just about every week," defensive coordinator Sean McDermott said. "We are playing great team defense. The players are prepared, and they are putting in the work during the week to get themselves into position to be successful."
Safety Mike Mitchell (two interceptions) and linebacker Thomas Davis (game-high nine tackles) were the defensive standouts against the Vikings, but the entire defense was effective in limiting Adrian Peterson, the 2012 NFL MVP, to 62 rushing yards.
"Any time in the run game you can hold Adrian Peterson to what we were able to yesterday, you are doing something right," McDermott said. "That speaks to the toughness of the defense.
"The secondary did a great job of putting a net (on potential big runs) and giving us a chance to line up again. You don't see that all the time with Adrian."
McDermott is now looking forward to putting together another solid defensive performance for the home crowd as the Panthers host the St. Louis Rams at Bank of America Stadium this Sunday.
"I think the players are starting to take a lot of pride in what goes on in this building," McDermott said. "When you can win at home that gives you a chance to get into the playoffs. Just being around the players, I know that there's a sense of pride in playing out here in front of our fans."