CHARLOTTE – The Panthers offense kept Kansas City on its heels Sunday with a balanced attack, but Carolina couldn't sustain its success when it mattered most.
The Panthers found the end zone on their first two drives but couldn't produce any points on two late-game drives in a 27-21 loss.
"We started fast. On the first two drives, our execution was real good," offensive coordinator Rob Chudzinski said. "Then we had some opportunities we just missed on, and at the end of the game when we had a chance to go down and score, we've got to be able to get that done."
Quarterback Cam Newton passed for 220 yards and helped the Panthers tally 165 yards on the ground, their best rushing total since Week 4.
Newton contributed 78 yards rushing. Running back DeAngelo Williams, starting in place of injured back Jonathan Stewart, posted 67 yards, and fullback Mike Tolbert added 15 yards on two attempts and 24 receiving yards on three catches.
"I see the run game improving," Chudzinski said. "I like the way DeAngelo ran. We were productive with him running the ball, Mike running the ball and with Cam getting some runs as well.
"Hopefully we'll continue to go in that direction with the run game."
The cause was helped by the play of the offensive line, including an improved effort from rookie left guard Amini Silatolu.
"He's playing more confident and is able to play more physical because he is more confident," Chudzinski said. "That's what you look for in young players."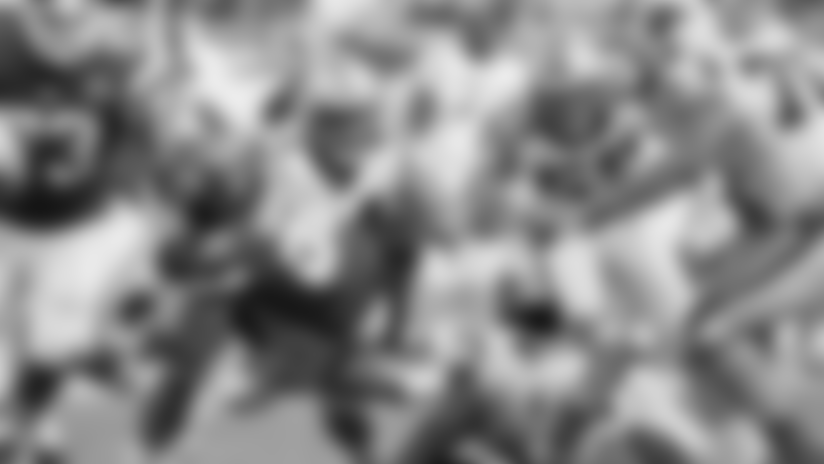 DEFENSE QUIET: While the Chiefs were brimming with emotion in light of Saturday's tragic events in Kansas City, Panthers defensive coordinator Sean McDermott was disappointed in his unit's mindset.
"They were going through a unique set of circumstances and the emotions that go along with that. As far as us, I didn't think we came out with fire in our eye," McDermott said. "That's the first time I've seen that, except maybe for the Giants game (in Week 3).
"We've addressed that. This is an emotional, physical game, and you've got to play it that way. You've got to play with your emotions on your sleeve, but within that you've got to play disciplined. The penalties were totally unacceptable. I take responsibility for that."
The last five of the Panthers' seven penalties were on the defense, which struggled to stop the run for the second consecutive week. One game after Philadelphia Eagles rookie Bryce Brown gained 178 yards, Jamaal Charles gained 127.
Next up is Atlanta running back Michael Turner, a Panthers nemesis who had 103 rushing yards and 68 receiving yards in a Week 4 victory over Carolina.
"Obviously we've taken a step back, in the run game in particular," McDermott said. "We've got to get that corrected, make sure we get that tightened up. It comes down to gap integrity and making sure we play physical.
"We need to play better this week. We need to be ready to play coming out of the chute."