CHARLOTTE – In a 2016 season that became more lost by the week, the Panthers hit rock bottom in Seattle. The offense scored just seven points, the defense gave up 534 yards and 40 points, and Cam Newton didn't wear a tie.
But what went largely unnoticed that night was the '0' under the Seahawks' sack total. And after that surprising shutout, the makeshift offensive line of Mike Remmers, Andrew Norwell, Tyler Larsen, Chris Scott and Trai Turner managed to help Carolina win its next two games.
"Everybody talks about the offensive line being a catastrophic situation," general manager Dave Gettleman recalled late last week. "All I know is we won two games in December with those guys. We beat San Diego and a playoff team in Washington.
"When you have a season like we did last year, you have to look at the positives."
Of course, Gettleman had to do more this offseason than just look at last year's final stretch with Panthers-colored glasses.
While planning around Michael Oher's still unknown future, Gettleman filled the large opening at left tackle by giving Matt Kalil the biggest free agent contract in franchise history. It was an expensive gamble on a guy who regressed after his rookie year in Minnesota, but it was a roll of the dice the Panthers had to make. 
"I'm pleased with Kalil," Gettleman said while acknowledging there's only so much you can take away from non-contact drills during spring workouts. "He's done a really nice job and he'll get better."
Even if hip surgery and a change of scenery help Kalil turn his career around, there's another sizable question mark on the other side of the line. Daryl Williams, who was serviceable in 10 starts at right tackle last year, is the favorite to be at that spot come Week 1. But two full seasons in, Williams is still a work in progress, especially as a pass blocker.
"He knows where he's going and what he should be doing. That's half the battle," Gettleman said. "He's athletic enough and he's got all the physical tools to play the position. Now it's just a matter of working at his craft."
Because of the perilous situation at tackle, Gettleman went into April's draft planning to come away with a tackle. He did late in Round 2 by grabbing Taylor Moton, who the Panthers expect to make the steep jump from Western Michigan to the NFL sooner rather than later.
"Taylor's not a redshirt guy," Gettleman said. "He's talented, he's big, he's strong, he's powerful, he's a good enough athlete to play right tackle, and he's smart enough to go inside."
Unless there are multiple position catastrophes on the inside, Moton probably won't have to help much there just yet. Because as much of a worry as tackle may be, the Panthers have what Gettleman termed "unusual" depth on the interior.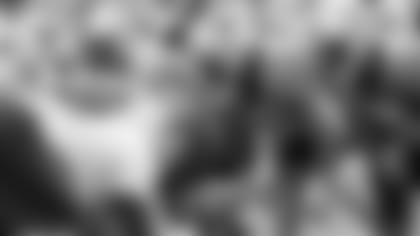 Behind Pro Bowl center Ryan Kalil, there's Larsen and six-year veteran Gino Gradkowski. And at guard, thebackups for rising stars Trai Turner and Andrew Norwell are Amini Silatolu and Chris Scott, who have made 40 combined starts in Carolina.
Really, the inside's biggest unknown this summer is whether the 24-year-old Turner will get a hefty contract extension. 
"Things don't change," Gettleman said when asked about Turner's future, "you've got to identify the core guys and you've got to try to sign them. But again, I've got a salary cap and 52 other guys."
Which makes building depth that much more challenging, especially in a league where it's hard enough to find, say, two starting caliber tackles.
"Sometimes you can only improve incrementally," Gettleman said when pressed about the depth behind Matt Kalil, Williams and Moton. "The world outside wants you to get a Pro Bowler at every position. Well, if we had a Pro Bowler at every position, anyone could coach that team.
"You've got 32 teams and there aren't enough players. There are not enough players to support the league."
Like the Panthers proved in 2015, followed by the Falcons last year, it's a lot easier to pile up points if your offensive line stays healthy. That's the house of cards every team should be losing sleep over. Because after the build, about the only thing a general manager can do now is believe. 
"Sometimes your depth has got to be the young guys," Gettleman said. "You've evaluated them, they've shown they have the ability to play and now it's a matter of figuring it out because this is a whole different level."
View photos from Wednesday's mandatory minicamp session.