CHARLOTTE – When the Panthers faced the Broncos in a rematch of Super Bowl 50 to kick off the regular season, they did so with the same five starters along the offensive line that were out there for nearly all of the team's remarkable 17-2 season.
Of the 95 starts made by offensive linemen last season, all but four of them were made by Michael Oher at left tackle, Andrew Norwell at left guard, Ryan Kalil at center, Trai Turner at right guard and Mike Remmers at right tackle.
So far this season, those starters – in their normal starting spots – have accounted for just 33 of the group's 50 starts. Last year's stable starting five hasn't started together since Week 3.
"It's tough on those guys because there is no continuity right now," head coach Ron Rivera said. "We've had to move guys around."
Sunday in Oakland, the Panthers might only have their guards in their usual spots against a couple of rushers who can present problems. Raiders defensive end Khalil Mack ranked second in the NFL with 15 sacks last season and is again in the top 10 with eight this season, and former Seahawk Bruce Irvin ranks among the most athletic linebackers in the game.
"They can take over a game if you allow them to," quarterback Cam Newton said. "They're very dominant up front."
Still, the situation isn't as dire as it might seem. Mack has more than half the sacks for a defense that ranks last in the NFL with 15. And, despite their 8-2 record, the Raiders are among the 13 NFL defenses to yield at least 24 points a game.
More importantly, especially for the big picture, the Panthers' offensive line has held up well considering the circumstances. Despite all the turmoil, Pro Football Focus ranked the Panthers' offensive line as the 10th-best based on play so far this season.
"I think we have some answers for them," Newton said. "We just have to stay ahead of the sticks. Third-and-long is when those guys feast. It's going to up to me to get the ball out of my hands when I need to and trust the offensive line that they're going to do their job, which I know they will."
Based on the current injury report, the Panthers won't have their preferred starting five for the eight consecutive game and will have just two starters – guards Norwell and Turner - in their usual spots for the third time in the last four games.
The tackle spot has been turned upside down since Oher went into the concussion protocol on the eve of Carolina's trip to Atlanta in Week 4. From that game until now, Remmers has been at left tackle with second-year pro Daryl Williams filling in at right tackle.
"Mike Remmers has done an outstanding job, and Daryl is starting to establish himself as a solid right tackle," Rivera said. "He's a big, physical young man who is learning the game. He still makes some mistakes, still gets beat, still missed some blocks, but the future is bright. Going forward, this will all be good for us."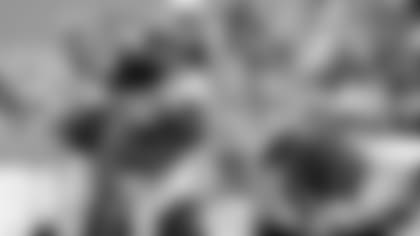 Williams' only starts as a rookie came when the Panthers opened with a sixth offensive linemen, but he's started to hit his stride.
"He's doing an amazing job," Remmers said. "We have a lot of confidence in him. He's developed a lot since the first game he started. He's developed into a good player, and he will continue to help."
Added Turner: "It's crazy to see somebody grow in the snap of the finger. When he was pushed into the starting lineup, he had no choice. I couldn't be more proud of the way he has stepped in, stepped up and handled it everything. I'm happy for him that he's getting an opportunity, and he's taking full advantage of it."
Just when the Panthers appeared to have adjusted to the turnover at tackle, the line's anchor went down. Kalil missed two games with a shoulder injury, then gutted it out for more than a half last week with backup Gino Gradkowski out with a knee injury. Kalil didn't practice Wednesday, but Gradkowski did on a limited basis.
"It's hard on an offensive line when you're shuffling players constantly, and it's even harder when you're talking about the guy who's got to make the primary communications," Rivera said. "He's so valuable with making the calls and helping with communication. We miss Ryan tremendously, but having a guy with Gino's ability to step in, that helps a lot."
Will it help enough against the Raiders?
"Oakland is a great team," Newton said. "They're very dominant up front, so we have to be prepared for those guys and every since of what they bring."
View photos of the Panthers practice leading up to their game against the Raiders.