CHARLOTTE – The Panthers' substantial improvement on offense over the last four weeks predictably coincides with quarterback Cam Newton's best four-game stretch of the season.
"Obviously, Cam has played better, played more consistent. The turnovers – he's eliminated those for the past few weeks," offensive coordinator Rob Chudzinski said. "That's been important to us."
So has the improved play of the offensive line.
The Panthers gave up seven sacks against the Broncos in Week 10. They've allowed seven sacks total in the four games since.
Atlanta recorded just one sack last week, and Carolina racked up 195 rushing yards.
"Our protection has been very good," head coach Ron Rivera said. "Those guys have done a really nice job since Denver. They've played well as a group. That's been a contributing factor (to the offense's success)."
According to Chudzinski, continuity and some much-needed familiarity has keyed the turnaround up front, which has fielded six different starting combinations this season.
"The offensive line, we had shuffled it around quite a bit and we've settled in on a group," Chudzinski said. "You feel that they've come together.
"Five weeks ago or so it was different guys in, not knowing exactly who is in. (Players wondering) where they are going to be and how we are shuffling them around. Now we have a sense of who is where and we can game plan around it."
After trying some different combinations along the right side of the line, Garry Williams has taken hold of the right guard spot, allowing Byron Bell to function at right tackle, his preferred position.
"We've settled on who those starting five are going to be for us going forward in these next three games," Rivera said.
---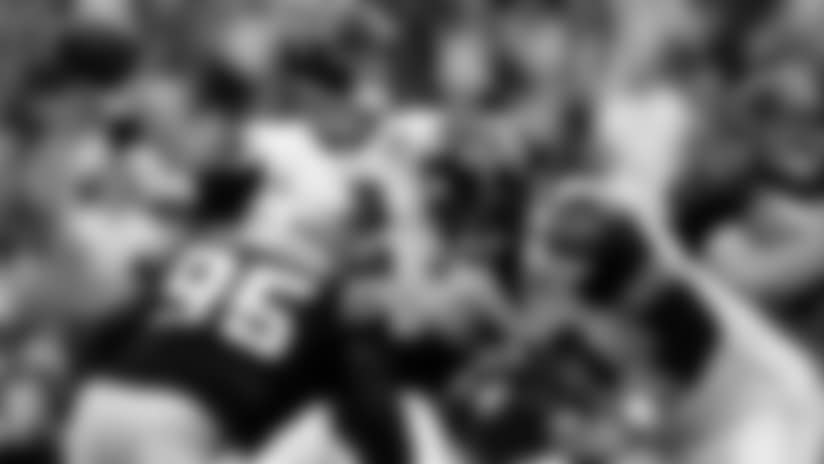 DEFENSE DICTATES: Defensive tackle Frank Kearse wasted no time notching his first career solo sack in his first start of the season against Atlanta.
Kearse dropped Matt Ryan for an eight-yard loss on the Falcons third offensive play, setting the tone for defensive coordinator Sean McDermott's unit.
"We challenged our young tackles early in the week," McDermott said. "Those guys stepped their game up, and that was an important part of our success.
"I thought we affected the quarterback enough early in the game to where he was off the mark later in the game. When you hit the quarterback, that tends to rattle people once in a while, and I thought he got rattled."
ADJUSTING TO THE BOOTH: After starting the season coaching from the sideline, McDermott decided to move to the coaches' booth in Week 8 at Chicago, and he's remained there ever since.
"Sometimes I like it, sometimes I don't," McDermott said. "When we don't have a good series I like to be down on the sideline to be able to control things, to look the players in the eye. (Being upstairs) does give me a viewpoint to where I can see protections and some of the things (opponents) are doing route combination-wise. It has its benefits."
And when a message needs to be delivered to the defense, Rivera – a former defensive coordinator – is more than capable of passing it along.
"Being up in the stands in the 800th row sipping on a hot chocolate, I have a hard time doing that," McDermott said with a laugh. "That's a big reason why I was able to go upstairs – I know Ron is down there."
---
SURGING SPECIAL TEAMS: Entering Week 14, Graham Gano had kicked just one field goal as a Panther. Against the Falcons, Gano converted all three of his attempts from 24, 41 and 31 yards out.
Rookie punter Brad Nortman placed one punt inside the 20, and his other attempt was a 58-yard touchback.
Rivera lauded kick returner Armond Smith, who averaged 18 yards on three returns and delivered a thunderous hit as a member of the kick coverage unit.
"Special teams has been very good. Our new kicker seems to be getting comfortable. He was 3-for-3 yesterday. Our punter punted very well, and our coverage teams have been very good," Rivera said. "I love the way (Armond) returned those kicks and he got an opportunity to cover kicks and made a tackle at the (16)-yard line.
"All the (phases) seem to be coming together; unfortunately it's at this time of the year."