CHARLOTTE – After the Panthers put up 45 points in their Monday Night Football victory over the Dolphins, a reporter informed left tackle Matt Kalil that the offensive line had helped pave the way for the best performance in terms of total yards in franchise history.
"I'd love to do that every week. That would be awesome," Kalil said. "We've got a good thing going right now. We've just got to hone in on what we're doing right now, fix little mistakes and keep getting better each week."
Just three weeks earlier, the offensive line was licking its wounds rather than its chops, smarting from a struggle against the Bears in which Cam Newton was sacked five times and the offense mustered a single field goal.
The line didn't have a good thing going. Big mistakes were being made, the type that get offensive linemen noticed for all the wrong reasons.
In the two games that followed, however, the group showed steady improvement. Then against the Dolphins, the floodgates opened.
"Probably the biggest thing is that guys are starting to have some success, and now they're playing with some confidence," offensive coordinator Mike Shula said. "Those guys are extremely prideful. They're probably one of the most determined groups on this football team as far as trying to do things right."
That pride took a blow last season when, coming off a trip to the Super Bowl that capped three consecutive years as NFC South champions, the Panthers took a step back. Injuries hit the offensive line hard in 2016, when the Panthers slid to 6-10, and the organization invested heavily in Kalil in free agency with hopes of upgrading the unit.
With brother/perennial Pro Bowler center Ryan Kalil back in the middle after missing half of 2016 with a shoulder injury, the Panthers didn't allow an unintimidating 49ers team to sack Newton in a season-opening victory. Kalil, however, was a late scratch for Week 2 with a neck injury, and the Bills racked up six sacks though Carolina came away with the victory.
That began a six-game stretch in which the run game was stuck in neutral and pass rushers were having a field day. The Panthers did manage to go 3-3, but Newton was sacked 23 times. The past three games, however, he's been sacked just once, and the Panthers entered the bye week having topped 200 yards rushing in consecutive games for the first time ever.
"Some weeks it just doesn't go your way, but if we keep going with our game plan and keep trusting in ourselves, good things are going to happen," center Tyler Larsen said. "We know we have to fight and work day in and day out."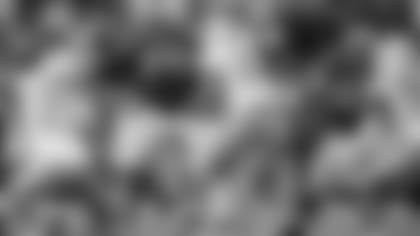 Ryan Kalil is fighting every day to get back in the lineup. He did start against the Bears in Week 7 but exited early and again gave way to Larsen. A find last season who spent his first two pro offseasons on rosters but didn't even make a practice squad before making Carolina's 53-man roster in 2016, Larsen filled in admirably for Kalil last season and again this season.
So, Kalil's absence notwithstanding, the offensive line has enjoyed the type of stability that often yields positive results. Trai Turner and Andrew Norwell have been rock-solid and sometimes-spectacular staples at the guard spots since they were rookies in 2014, and soft-spoken Daryl Williams – now the starter at right tackle for more than a year - has gone unnoticed for a while. That's actually a good thing.
"We've had some steadiness with Daryl on the right side," Shula said. "He's been very, very steady. We talk about him as a good run blocker first, but he's done a really good job in the pass game."
Shula isn't too big on the clichéd concept that it takes time for offensive lines to gel. But he does admit that the "new guys" relatively speaking – Larsen and Matt Kalil – are stepping forward in part because they've had more time to get in step.
"Look at the difference between Ryan (Kalil) and Tyler (Larsen) – not in talent level but in terms of call, recognition, communication. I think guys are getting used to Tyler's personality in that regard," Shula said. "And Matt Kalil is getting used to any last-minute tweaks right before the ball is snapped that he couldn't experience at that speed until he played in games. You can see it in practice, but that's not the same as a game.
"I think it's more the confidence of everybody collectively."
"It's just to the point," Matt Kalil offered, "where I can just focus on the guy I'm blocking."
The unit's focus is sharp now, forged by time together and furthered by continual input from position coaches John Matsko and Ray Brown, whom Shula credited for helping identify how to best use the linemen much like Shula does with backs and receivers.
Challenges await in the six games after the bye week, with the Saints, Falcons and Vikings all ranking in the top 10 in total defense and sacks. Shula believes that success is a week-to-week proposition, but the offensive line has developed a day-to-day determination that is giving the unit and the Panthers a shot at sustained success.
"We'll have to prove ourselves all over again after we catch our breath," Shula said. "But there's some really good effort, some toughness and finish, and you can see the pride they have in their play. There's some relentlessness that you see from snap to whistle."
View the top photos from Panthers vs. Dolphins by team photographer Melissa Melvin-Rodriguez and second shooter Andrew Dye.