CHARLOTTE – Last Sunday, the Panthers' offensive line departed the Sunshine State with a collective cloud hanging of over its head, demoralized after an atypical performance in a season-opening loss to the Tampa Bay Buccaneers.
After stomaching a sour taste in their mouths for an entire week, the group enjoyed some sweet redemption Sunday – and maybe into Monday.
"The offensive line played great today," fullback Mike Tolbert said. "I wouldn't be surprised if we come in tomorrow and they've all got big smiles on their faces and doughnuts in each hand."
Against Tampa Bay, the rushing game produced a virtual doughnut, tying a franchise record for futility with 10 yards. In Sunday's 35-27 victory over the New Orleans Saints, the offensive line opened holes big enough to drive a bread truck through, paving the way for 219 yards.
"The offensive line blocking like that, opening up gaping holes, makes Stewart, DeAngelo and Mike's job very easy, and also mine," said Panthers quarterback Cam Newton, ticking off the names of the four Carolina backs who scored touchdowns. "Execution – that's all it comes down to offensively.
"If you can't execute, you're going to stall series in and series out. We kept the ball moving forward and stayed out of second-and-long and third-and-long situations."
The Panthers' first two runs of the game gained 10 yards for DeAngelo Williams, matching their total from a week ago. Newton got sacked on the next play when he appeared to have time to throw but couldn't find a receiver, and Jonathan Stewart lost two yards on the play after.
From there, however, Newton wasn't sacked again, and the Saints mustered just one more tackle for loss.
"We have a lot of pride up front. We're a good group, and we should be - all the time," veteran left tackle Jordan Gross said. "Last week, we didn't do as well as we wanted, and we caught a lot of flak – deservedly so – for that.
"We definitely did a better job today. We ran the ball, protected Cam better, and we had fun doing it."
Newton broke his own franchise record for a quarterback with 71 rushing yards, highlighted by a 40-yard scamper. Williams added 69 yards after rushing for minus-1 on six attempts in the opener, and Stewart returned to action after missing the opener with an ankle injury to tally 51 yards.
"Jonathan Stewart gave us a bit of that physicality that we didn't have last week," Panthers head coach Ron Rivera said. "It was good to have him back, and it was good to have our offensive line fire off and play physical."
The offensive success spearheaded by the fellows up front wasn't limited to the run game. The ground gains forced the Saints to crowd the line of scrimmage and place more pressure on their defensive backs, pressure they couldn't handle nearly enough as Newton passed for 253 yards on just 20 attempts.
"We were balanced," right tackle Byron Bell said. "Last week we weren't, but this week we passed and ran and kept them on their heels. Play action worked, and we got it rolling."
The play that best typified the strain the Panthers put on the defense was the beginning of the end for New Orleans.
On Carolina's first offensive snap after the Saints had closed within 28-20 early in the fourth quarter, wide receiver Steve Smith found himself as wide open as humanly possible down the right sideline for a 66-yard gain that set up the Panthers for their fourth touchdown in six possessions.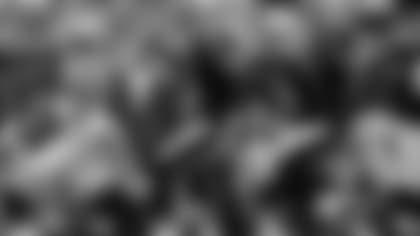 Smith had left the field earlier in the half to receive treatment for cramps. Did the Saints simply fail to recognize that he had returned?
"I was as shocked just as much as you guys were," Newton said. "You would think Smitty would be the last person to be that wide open."
But that's what a successful run game sets up, and that's what the offensive line made possible on this day.
"We have high standards in our line room," Gross said. "That was terrible last week. Even if we had won, I still wouldn't have been happy about 10 yards rushing.
"I'm glad we came back like we did, ran for more than 200 yards. We just can't be up and down. This needs to be the norm."