CHARLOTTE – Less than a month ago, Graham Gano became a father for the third time with the birth of Kayden.
"My wife is strong for putting up with four boys in the house now, including me," Gano said. "I've got three boys now, and every single time it's such a blessing."
Gano is blessed personally and professionally, having managed to end each of the past eight seasons as a team's primary kicker, a position where turnover is common. Last season brought its share of challenges, however, but Gano has chosen to view a broken bone in his foot and the Panthers' decision to add another talented foot to the roster as blessings in disguise.
"The thing about my job is that I can only control what I can control," Gano said. "I can't worry about anything else."
Statistically speaking, Gano had another productive season in his fourth as Carolina's full-time starter, but a tough start and tough finish to the year – with a tough break (literally) in between - prompted the Panthers to draft a kicker for the first time in franchise history.
Monday, Gano met seventh-round draft choice Harrison Butker, the leading scorer in Georgia Tech's 124-year football history coming off a season in which he led the Atlantic Coast Conference in field goal percentage.
"All of the younger guys are pretty quiet. He seems like a nice guy," Gano said. "He has asked me some questions, and I've tried to answer them the best that I can. But it is competition.
"They told me they were probably going to either draft a kid or bring a young guy in, so I wasn't really surprised. That's just how the NFL goes."
Gano's 2016 season began in frustrating fashion, when he missed the mark on a 50-yard field goal in the final seconds that would have won the Super Bowl 50 rematch at the Denver Broncos. He recovered to put himself in position to record his highest field goal percentage since 2013 heading into the season finale, but that's when an injury finally caught up with him.
In the three games leading up to his 1-of-4 finish to the season at Tampa Bay, Gano played with a broken bone in his plant foot – an injury that bothered him well before the bone snapped in half on a Week 14 kickoff against the Chargers.
"Coach called it a ballerina injury. Being a specialist, you get messed with a little bit, but then when people find out it snapped it half, it's a little bit of a different story," Gano said. "I was born with an extra bone in each foot (a bone that about six percent of people are born with), and my rookie year I snapped the one in my right foot. I actually broke that one two days before my first NFL game, and right after the season I had that one removed. I've played with two broken feet, three broken vertebrae, a herniated disk in my neck.
"This latest one was annoying to deal with, but around the entire team and entire league, everybody deals with something. It was something I was trying to push through. I feel like they did their best to try to help me manage the pain, but it was something I had to deal with."
Gano had surgery in mid-January and has been medically cleared.
"The biggest thing is working on flexibility, which I'm doing right now," Gano said while going through a series of stretching exercises in front of his locker. "It's nice. It's been awhile since I haven't had pain in my plant foot. It's really nice to be able to kick without pain."
Gano said he's hitting the ball well as the Panthers prepare to kick off organized team activities next week. The competition with Butker will kick up a notch during OTAs and should then really heat up come training camp and the preseason.
But as a veteran with a track record of success, Gano knows how to handle the heat.
"I'm definitely looking forward to the competition with Harrison. It's going to be good. I think it will make both of us better," Gano said. "I'm going to go out there and do the best I can and then leave it up to the organization to make the decision. I'll just keep working to get better and make this team better, and I'll let everything else handle itself."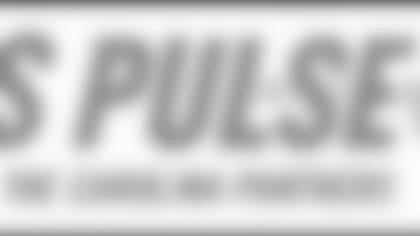 ](https://nfl.csharmony.epsilon.com/pc/clubs/Panthers/Account/register)