SPARTANBURG, S.C. – The day after the Panthers' offseason workout program came to an official close, left tackle Michael Oher signed a three-year contract extension that will keep him with the Panthers through the 2019 season.
Once Oher put pen to paper, he had more than a month of free time before training camp and a lot more financial security at his disposal.
So how did he celebrate the momentous occasion?
"I didn't do anything major; I forgot what I did," Oher said. "I was excited, though. It gives me an opportunity to be here a little bit longer.
"It made me work a little bit harder this summer."
It's hard to imagine Oher working harder than he already does, and it's hard to imagine things working about better for Oher or the Panthers than they did last season. A former first-round draft pick who wasn't re-signed by the Ravens after five seasons and who then couldn't find his footing in one season with the Titans, Oher signed a two-year deal with the Panthers last March.
He resurrected his career in 2015, starting all 16 games at left tackle for the Panthers. Thursday night, he'll kick off the second season of his second chance in Carolina's preseason opener at Baltimore.
Oher "wouldn't say they (the Ravens) gave up on me," but, "You definitely want to show those guys, have a chip on your shoulder and show those guys, 'Hey, look what you guys missed out on.'" he said. "I want to do well for myself and my team."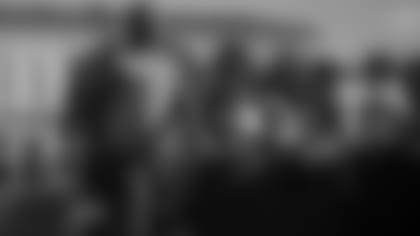 The Panthers' second preseason game is at Tennessee, a team that did appear to give up on Oher after a season that made many around the league give up on him as well. But the Panthers saw the Titans' decision to release Oher as a blessing and moved to sign him, quickly announcing their attention to start him on the left side and then getting him back working with John Matsko, his first NFL offensive line coach.
"These coaches do a great job with fundamentals and technique, and that's what it's all about. That's what I'm about," Oher said. "It's great being around good people, coaches who know the game and know how to coach, and guys on your team who love learning and working hard every single day. Not one guy on this team thinks they know it all."
That's certainly the attitude exuded by Oher and why he refused to rest of his laurels after signing his contract extension. Same goes for the Panthers on the whole as they prepare to take the field following a 15-1 season.
"I've got to earn it and continue to prove myself. You have to in this league, every year," Oher said. "You have to bring it and show everyone why you're here. That's what it's about: 'What have you done for me lately?' You have to continue to work and perform at a high level.
"This is a great organization from top to bottom. If you bring the right players in - character guys and team-oriented guys – you're going to have some type of success. Of course you need talent, but guys who work hard, compete, listen and are coachable – you can go a long way with that."
Check out the top photos from Michael Oher's first season with the Panthers.