CHARLOTTE - At first glance, Greg Olsen doesn't fit the profile of the typical recipient of the Ed Block Courage Award.
While Thomas Davis won the honor in 2011 following three major knee injuries and Ryan Kalil won it last year after returning from a Lisfranc injury, Olsen currently has the second-longest games played streak among NFL tight ends at 123.
Although Olsen hasn't had to deal with a potentially debilitating injury, he's shown courage in the face of a more frightening situation.
"We were handling a tough situation the best that we could," Olsen said. "It's no different than a lot of guys would have done in a similar situation with their family."
For his very public fight to save the life of his son, Olsen is Carolina's latest recipient of the award, given annually to one member of each NFL team in memory of longtime Baltimore Colts trainer Ed Block.
"I know that in my time here, a lot of quality guys and quality players have won it," Olsen said. "Anytime you're selected for anything by your peers, it's always a tremendous honor."
TJ Olsen is a happy, healthy 2-year-old now, but it's been a winding road to this point. He endured three dangerous but necessary open heart surgeries before his second birthday to combat a rare and often fatal condition called hypoplastic left heart syndrome. Following his final scheduled surgery earlier this season, doctors decided to fit TJ for a pacemaker, a surprise development that required Olsen to bolt from the Bank of America Stadium practice fields to the hospital.
"We couldn't have done it without the organization being so supportive – from Mr. Richardson right after the diagnosis two-and-a-half years ago to Coach Rivera and Mr. Gettleman being so understanding of me bouncing back and forth," Olsen said. "There were a couple of days at practice where I had to jump out of practice, and they never batted an eye. They've always been so supportive of me going and taking care of him and making sure I was there for my son and my wife."
It's easy to support Olsen with everything he does on the field and away from it. He's having a career year for the second consecutive season, and his HEARTest Yard initiative continues to benefit Levine Children's Hospital.
"The hardship of what happened to his young son with his heart defect as well as all the work he does off the field with his charities for Carolinas Medical Center and Levine Children's Hospital - all that goes into why he was selected for this by his teammates," head athletic trainer Ryan Vermillion said. "It's not just one thing – it's Greg Olsen the person. It's what he does in the locker room, what he does in the meeting rooms, on the practice fields and on the game field, and of course what he does in the community. It speaks to the person he is."
As for TJ, Olsen said he's doing great and is looking forward to family visiting for the holidays as well as the possibility of attending nursery school for the first time come the new year. It's another sign that he's well on his way to being viewed as just a normal kid, something Olsen is thankful for and wishes for others in the same situation.
"Our whole attitude has been that we were given this for a reason," Olsen said, "whether that was because we could handle it or because we could use our platform and exposure to help raise funds and awareness and to share our story to give other people hope."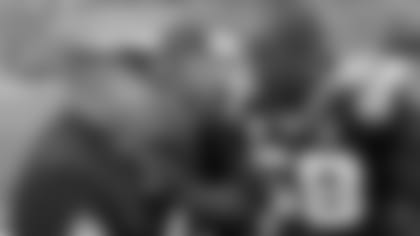 DAVIS HONORED AGAIN: Linebacker Thomas Davis has been nominated for yet another award.
Already selected as the Panthers' nominee for NFL Man of the Year, Davis has also been recognized as the team's nominee for the inaugural NFL Sportsmanship Award.
"I'm truly honored to be selected," Davis said. "Playing this game, I try to go out and do it the right way. As a defender, I try to play a physical game but do it the right way. I don't want to try to intentionally hurt anybody and be a negative player on the field."
Davis has created plenty of opportunities to deliver hard but clean hits the last few seasons. He recorded a career-high 151 tackles last year and is nearly on that pace this season with 116 despite missing one game. His 818 career tackles rank second in team history behind Mike Minter's 953.
The award will be presented to the player who best demonstrates the qualities of on-field sportsmanship, including fair play, respect for the game and opponents, and integrity in competition.
Eight finalists – four from each conference – will be included on the players' Pro Bowl ballots, and the leading voter getter based on each team's consensus vote will be announced during the "4th Annual NFL Honors" show the night before Super Bowl XLIX. The winner will receive a $25,000 donation from the NFL Foundation to a charity of his choice.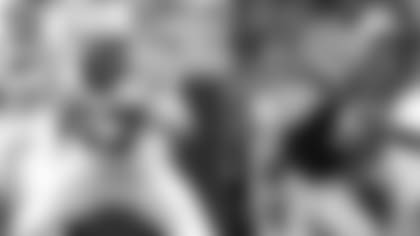 KALIL, KUECHLY SELECTED: Center Ryan Kalil and linebacker Luke Kuechly have been selected to the 2014 USA Football All-Fundamentals Team, which honors 26 NFL players – 11 offense, 11 defense and four special teams – who exhibit exemplary football techniques for young players to emulate.
Each player chosen for the All-Fundamentals Team will receive a $1,000 equipment grant from USA Football to donate to the youth or high school football program of his choice. Kalil will present his grant to Servite High School in Anaheim, Calif., while Kuechly will give his to St. Xavier High School in Cincinnati, Ohio.
Kalil sets the standard for presnap communication, understanding what the defense is trying to do and communicating blocking assignments to his linemates. Once the ball is snapped, Kalil excels at maneuvering through inside congestion to get to the second level and block linebackers. In the passing game, his ability to drop straight back into a vertical pass set allows him to identify inside rushers and direct his blocks accordingly.
Kuechly excels at zone coverage on pass plays because of his ability to both read quarterbacks' eyes and recognize passing concepts. On running plays, he avoids traffic and moves downhill, taking an inside-out angle that keeps him from overrunning the ball-carrier while making the sideline-to-sideline plays he is known for.