SPARTANBURG, S.C. – Since entering the NFL as the Chicago Bears' first round draft pick in 2007, Greg Olsen's approach to his craft has always been the same.  
"To be the main guy and be one of the top (tight ends) in the league," Olsen said, referring to his mindset, "and that never is going to change."
Olsen believes in his ability to be a dominant tight end. The Carolina Panthers -- who have relied on a tight end by committee philosophy for some time -- do too.
Last year, Olsen and Jeremy Shockey split time as tight ends in the Panthers offense and both produced, helping set team records for the most catches and receiving yards by a group of tight ends.
But Shockey is no longer with the team.
The Panthers have placed their trust in Olsen. He is Carolina's unquestioned leader at tight end, a position that's featured some of the newest and brightest stars league wide -- Rob Gronkowski of New England, Jimmy Graham of New Orleans, and Vernon Davis of San Francisco to name a few.
Tight ends are establishing themselves as bona fide game-changers. Can Olsen perform at that level?
"He can be right up there with them," head coach Ron Rivera said. "This will be his first opportunity with us to step up and be the starting tight end and be the guy. You watch him catch footballs, you watch him run routes and you see those traits that say, 'You know what, he could fit right into that group.'
"I know he's excited about this opportunity and I'm excited as well."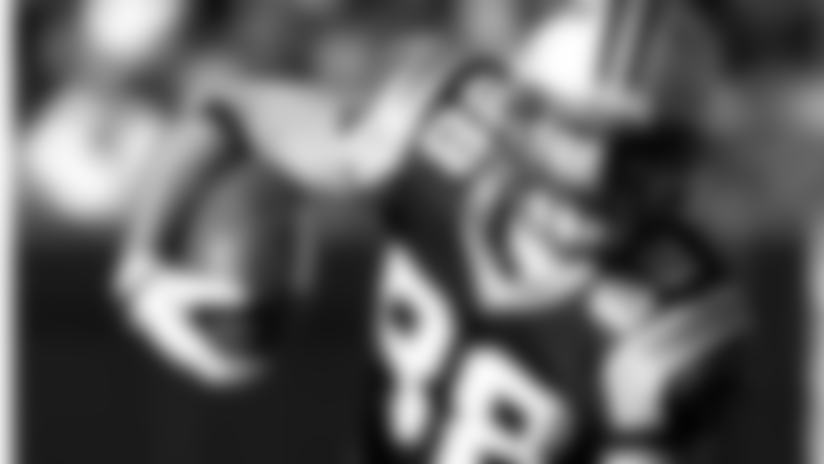 When his career began with the Bears, Olsen matured behind veteran tight end Desmond Clark, a necessary building block for his development.
"Desmond was huge to me for growth early in my career," Olsen said. "I didn't start my rookie year. He was the starter and deservedly so. I had a lot to learn."
Clark remained a steady veteran presence, but Olsen eventually worked his way into a starting role in Chicago and emerged as the club's go-to pass-catching target in 2009, leading the team with 60 receptions.
And after one more season with the Bears, Olsen was traded to Carolina on the first day of training camp in 2011. From there, he and Shockey formed a tight end tandem for Carolina.
Olsen finished with 45 catches for 540 yards and five touchdowns. Shockey compiled 37 catches for 455 yards and four scores.
"Last year, with me and Shockey both being here, sometimes things got a little diluted, and at first glance you might think you had a bad year," Olsen said. "But when you go back and watch tape, all you can do is (based on) on the opportunities that you have, and I think that was the case with the two of us being pretty productive as a unit, rather than individuals."
Now, Olsen will look to raise his game individually. So will tight end Gary Barnidge, who is primed to take over the No. 2 tight end role behind Olsen.
"Gary is one of those guys, this has got to be his big coming out year," Olsen said. "Last year he was really having a good camp and then, unfortunately, he got injured and missed the whole season. Now, with Jeremy not here, it gives him an opportunity to fill that role."
And it gives Olsen an opportunity to take command and become the premier tight end he's always sought to be.
"I feel confident in what I can do," Olsen said. "I feel confident that there are not a lot of (other tight ends) that can do the amount of things that I do."