CHARLOTTE – When it comes to scoring touchdowns in the NFL, the Panthers' two most high-profile offseason additions have different tales to tell.
While rookie running back Christian McCaffrey waits to score his first NFL touchdown, he has a teammate in Julius Peppers who scored his first when McCaffrey was eight years old. The dynamic defensive end, in fact, scored his first college touchdown before McCaffrey was old enough to play Pee Wee football – and it came at the expense of a coach that Peppers and the Panthers will face Sunday.
Back in 2000, when Peppers was a sophomore defensive end at the University of North Carolina, he returned a fumble 12 yards for a touchdown to jumpstart a victory over Wake Forest. Jim Caldwell, now in his fourth season as Lions head coach, was Wake Forest's head coach at the time – his final season in the college ranks before moving to the NFL a year ahead of Peppers.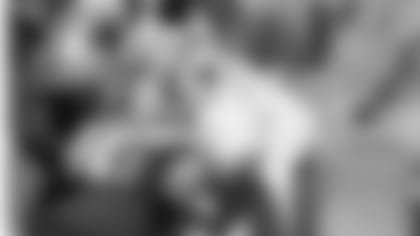 "He's a great player and an ageless sort of wonder," Caldwell said. "That just tells you both of us have been around awhile. This is my 17th season in the league, and Pep's been around a little bit, too."
The 37-year-old Peppers, now in his 16th NFL season and his first back with the team that selected him second in the 2002 draft, was named NFC Defensive Player of the Week after sacking Tom Brady twice in last Sunday's victory over the Patriots.
"It just makes me look good because I had been saying all along that Pep still had the juice, that he's still capable of playing at a high level," linebacker Thomas Davis said. "Him winning player of the week really speaks to that."
Aside from Peppers' individual effort against the Patriots, the offense carried Carolina. McCaffrey played a pivotal role but arguably as much as a decoy as anything else. The rookie totaled 49 yards but his biggest single play might have been when he drew the attention of New England defense with pre-snap motion that opened the door for fellow running back Fozzy Whittaker to waltz into the end zone for a 28-yard catch and run.
The play marked Whittaker's fourth offensive touch of the season. McCaffrey has 53.
"He caught the ball, he got in the end zone. That's his touchdown," McCaffrey said. "I'm anxious to get my first score. But if we score, I'm happy – it doesn't matter if it's me or anybody else. I'm here to help the team win a football game.
"But I would love to score."
For the record, McCaffrey has scored a touchdown during an NFL regular season game - albeit during a Pee Wee game as a part of the halftime show when his father played for the Bronocos.
If the Panthers offense keeps clicking like it did against the Patriots, McCaffrey's first real score can't be far away.
"When we can be in a rhythm, we can be really explosive as an offense," McCaffrey said. "We saw that a little bit on Sunday, and I know all of us are itching for more."
---
Peppers missed practice Thursday to rest a sore shoulder, but head coach Ron Rivera didn't seem overly concerned about it or the absence of fellow pass rusher Mario Addison (knee) for the second consecutive day.
"Mario hyperextended it so he's really sore, but the last two days they've had him working on the side and they say he's feeling better and better," Rivera said. "I do anticipate those guys practicing tomorrow."
Rivera also was pleased to see center Tyler Larsen (shoulder) fully participate in practice Thursday after not being able to go the previous day. Center Ryan Kalil was out on the practice field for the second consecutive day but did not participate, meaning Larsen likely will be asked to make his fourth consecutive start in Kalil's place.