TOGETHER WE MAKE FOOTBALL: TODAY's inspiring Together We Make Football series looks at the founders of the HEARTest Yard Foundation, who united Carolina Panthers tight end Greg Olsen and fan Greg Galloway to help provide at-home nursing care for families whose babies were born with congenital heart defects
With the Carolina Panthers set to make a Sunday night appearance on NBC, the network shared a heartwarming story Friday morning on TODAY.
The weekly "Together We Make Football" segment featured a connection between tight end Greg Olsen and Panthers fans Brent and Kayla Galloway. Their daughter, Primrose, was born with a congenital heart defect, a similar condition Olsen's son T.J. was born with a year earlier.
When Primrose went in for her first heart surgery, the two fathers connected by happenstance. Since then, they've formed a unique bond:
THOMAS DAVIS IS TOUGH:Bill Voth of the Black and Blue Review recaps the NBC Sports Network's recap show "Turning Point," which highlighted the Panthers Week 6 win over Seattle. Linebacker Thoms Davis amazingly popped his dislocated finger back in place mid-play before making a key tackle late in the game. READ MORE
BUILDING A WINNER:Albert Breer of NFL.com interviews head coach Ron Rivera and provides an in-depth look at Carolina's approach to sustaining success. **READ MORE**
COVERAGE PLAN: Eagles wide receiver Jordan Matthews burned the Panthers in last year's meeting. Cornerbacks Bene Benwikere and Josh Norman talked about trying to slow him down on Sunday. **READ MORE**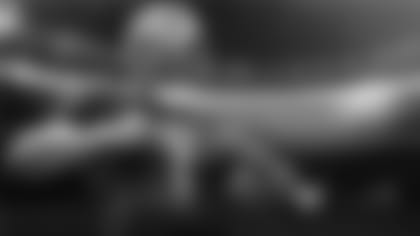 UNIFORM MASHUP: NFL players wearing local NBA inspired uniforms? Looks as cool as it sounds. Check out the images from Bleacher Report.
View photos from the Panthers' week of practice leading up to their game versus the Eagles.