Stay up-to-date with this weekly roundup of Panthers news from the local and national media.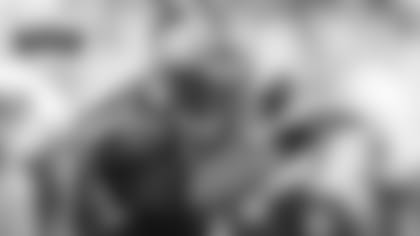 CAM DELIVERS POWERFUL MESSAGE: At a recent football camp, quarterback Cam Newton shared some powerful words of advice with kids in attendance. He spoke about the importance of respecting the game and authority figures like coaches and parents. He also explained why he dances in the end zone.
"They see me dabbing, they see me dancing, they see me doing this and that on the field. Why? Because I'm telling everybody on that field I can do what I want to when I want to do it," Newton said. "Is that disrespectful? No. That's all belief in myself."
Watch video of Newton's speech below.
DAB IS NO MORE: Speaking of dabbing and dancing, it appears Newton is leaving his signature move from 2015 in the past. During a radio interview with WFNZ, Newton said he'll be breaking out something new next season. READ MORE
NEWTON REMEMBERS ALI: Following the news of Muhammad Ali's death, Cam Newton penned a tribue on the Plauyers' Tribune, noting the profound impact the Ali had on his life and shared a unique story: "One of the most memorable moments in my life – one that I will always cherish – was when I received a surprise birthday call from Muhammad Ali." Newton also joined Good Morning America to discuss Ali, as well as his annual kickball tournament. READ MORE
PROEHL PROVIDES INSIGHT: Wide receivers coach Ricky Proehl also made an appearance on WFNZ. He analyzed the position group and had very high praise for Kelvin Benjamin and Stephen Hill, who are working their way back from season-ending injuries. LISTEN
OHER'S FUTURE: Left tackle Michael Oher rejuvenated his career after joining the Panthers last season, and as Jonathan Jones of the Charlotte Observer writes, he hopes to be in Carolina long term. READ MORE
PANTHERS RECEIVE RINGS: On Wednesday, the Panthers got their NFC Championship rings, officially closing the book on a historic 2015 season. Check out what head coach Ron Rivera and tight end Greg Olsen had to say. READ MORE
COACH BLACKBURN: Former linebacker Chase Blackburn is back with the Panthers as a special teams coaching intern. Staff writer Max Henson caught up with the aspiring coach. READ MORE
FUNCHESS ON FIRE: Wide receiver Devin Funchess made several acrobatic catches during OTAs, and Rivera said the second-year playmaker is "light years ahead" of where he was as a rookie. READ MORE
SECONDARY SURPRISES SMALL TOWN:Led by safety Kurt Coleman, virtually the entire defensive backfield made the day of employees at a cookout in a small South Carolina town. READ MORE
View photos from the third week of Carolina's organized team activities.