CHARLOTTE - It wasn't perfect, but it was perfectly in line with head coach Ron Rivera's vision for this team.
Featuring dominance on defense and timely execution on offense, the Panthers took care of the 49ers in the season opener.
"It was a good first impression…and we have an opportunity to be even better," Rivera said Monday after the Panthers returned from the West Coast with a 23-3 victory in hand. "There are things we're going to work on. The things we did well we've got to get better at, and the things we did great, we've got to make sure we understand why and then go out and continue to execute."
While complimenting the defensive showing, Rivera described the 49ers as a "good, young team with a new coach," with extra emphasis on the word "young."
"We've got to recognize what that means."
And while crediting the balance on offense both in terms of the run versus the pass and in terms of quarterback Cam Newton targeting eight different receivers, Rivera acknowledge that both Newton – coming off shoulder surgery – and a new-look offense on the whole still have work to do.
But in the opener, both units did their best work when the Panthers needed it most, and that's a good sign to be sure.
"That was an ideal finish for us," Rivera said of a punishing drive of near nine minutes to close out the victory. "We got physical upfront and ran the ball. Jonathan's strength really showed.
"The other thing I was really pleased with was just before the half with the two-minute drive, getting the ball back and being able to utilize the sidelines before hitting the ball over the middle that we needed and hurrying up and spiking the ball to bring the kicker in. That was exceptional."
"On defense, just allowing one-for-four on fourth downs – that was big. Coach (Steve) Wilks and the defensive staff did a nice job in terms of preparation, and the players went out and executed the way they needed to."
WORKING IN MOVING PARTS: Rivera was pleased with contributions up and down the roster but felt a little better about the way the rotations developed on defense than on offense. Things went especially smooth along the defensive line, where the Panthers managed nicely with Vernon Butler out with an injury and fellow defensive tackle Kyle Love returning from an injury.
"Kyle Love gave us exactly what we wanted. He was solid, though he did run out of gas a little bit with his first extended opportunity, but not bad for a big guy," Rivera said. "(Rookie defensive end) Daeshon Hall did some good things out there. For the most part, I was pleased with the rotation of the defense."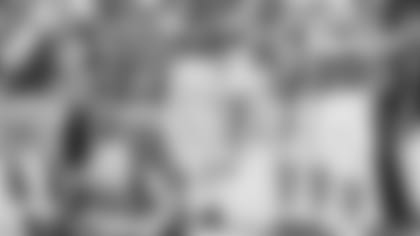 "Between Julius and Charles, that's what you want," Rivera said. "They looked fresh at the end of the game. Part of it had to do with the offense being able to control the clock and the ball, but to be able to keep those guys to specific numbers is important as the season wears on. It does wear on guys, so you want to make sure as it gets to the end that guys are fresh and still rolling."
On offense, Rivera ideally would like to see speedsters Curtis Samuel and Damiere Byrd get more opportunities. Samuel played 12 snaps and wasn't targeted, while Byrd played 19 and was targeted once but several of his snaps came when the Panthers ran out the last nine minutes on the ground.
"I think I would have liked to see a little more mixture of wide receiver combinations because of who we've got," Rivera said. "Curtis Samuel has got to get more snaps, and probably Damiere Byrd with their speed. You want to have them out there."
PRACTICING WITH PACE: Newton played just one series in the preseason and needs more reps to get up to speed, but facing the Panthers defense helped prepare him. Rivera said particularly during the week leading up to the preseason finale, he intentionally paired the first-team offense against the first-team defense.
That's not practical in-season, when the offense needs snaps against practice players mimicking the tendencies of that week's opponent, but pace of play remains important.
"When you do things fast, try to do things quickly – close to game speed – that's helpful," Rivera said. "Going into Pittsburgh week, we really focused on ones against ones to create that type of game atmosphere for him. That helped him, and we've got to continue to think in those terms. Now when we use our show team, the show team players have to understand how important it is to give him that kind of picture, to force the offensive guys to play fast so we can create that for him."
INJURY UPDATE: The Panthers came out of the opener virtually unscathed, though they did part with some injured players with some housekeeping moves Monday.
Four players placed on injured reserve during roster cutdowns reached injury settlements and are no longer with the Panthers: wide receiver Brenton Bersin, center Gino Gradkowski, safety L.J. McCray and guard Chris Scott.
BILLS ARE NEXT: The Panthers open their home schedule Sunday against a Buffalo team that's also 1-0 – which happens to be the same record Sean McDermott sports as a head coach. Carolina's former defensive coordinator led the Bills to a 21-12 victory over the Jets last week and will lead a team to Charlotte that includes former fullback Mike Tolbert and former assistant general manager Brandon Beane (now Bills GM) among others.
"I did text Sean and congratulated him. I am happy for him, I really am,"  Rivera said. "This is going to be an emotional week for a lot of people – with Brandon, with Michael Tolbert coming back. There is a lot of familiarity."
Stay connected! Sign up for the free Panthers Pulse e-mail newsletter for daily updates and news about the team, sent straight to your inbox. Subscribe Here
View the top photos from Panthers vs. 49ers by team photographer Melissa Melvin-Rodriguez.